Markets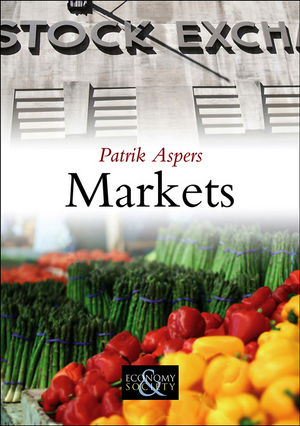 Markets
ISBN: 978-0-745-65512-3 May 2013 Polity 216 Pages
Download Product Flyer
Download Product Flyer
Download Product Flyer is to download PDF in new tab. This is a dummy description. Download Product Flyer is to download PDF in new tab. This is a dummy description. Download Product Flyer is to download PDF in new tab. This is a dummy description. Download Product Flyer is to download PDF in new tab. This is a dummy description.
Description
Our lives have gradually become dominated by markets. They are not only at the heart of capitalistic economies all over the world, but also central in public debates. This insightful book brings together existing knowledge on markets from sociology, economics and anthropology, and systematically investigates the different forms of markets we encounter daily in our social lives.
Aspers starts by defining what a market actually is, analyzing its essential elements as well as its necessary preconditions and varied consequences. An important theme in the book is that a whole host of markets are embedded within one other and in social life at large, and Aspers discusses these in the context of other forms of economic coordination, such as networks and organizations. Combining theory with empirical examples, the book cuts to the core of understanding how different markets function, the role they have played in history, and how they come into being.
This accessible and theoretically rich book will be essential reading for upper-level students seeking to make sense of markets and their complex role in social life.
Table of contents
Preface.
Acknowledgments.
1 Introduction.
2 Coordination in the Economy.
3 Markets in Society and Man in Markets.
4 Forms of Markets.
5 Order out of Standard Offers.
6 Order out of Status.
7 Making and Controlling Markets.
8 Conclusion and Future Research.
Reviews
"Patrik Aspers' book offers something different – a straightforward theoretical exploration of 'markets' within the evolving field of 'economic sociology', which is informed by both historical and contemporary commentary."
Marx and Philosophy
"A thorough and theoretically rich introduction to the study of markets."
Sociology
"Recommended."
Choice
"Markets is a lively compendium of an exciting literature on the sociological approach to market coordination. If you wish to understand the variety of markets in which we daily participate, there is no better introduction."
David Stark, Columbia University
"This book brings to life a sociological view of markets that helps us make sense of the markets all around us. Aspers replaces the stylized concept of the market in economic theory with a sociologically informed understanding of real markets, illuminating the origins and forms of markets, how markets are made, and the importance of identity and emotions. Markets is recommended reading for anyone who wants real insights into this social institution."
Wayne Baker, Stephen M. Ross School of Business, University of Michigan
"The sociology of markets has become one of the liveliest and most influential areas of the discipline, and there is no finer introduction to it than Aspers's crisp, well-informed book."
Donald Mackenzie, University of Edinburgh
Features
Offers a fresh and uniquely sociological perspective on the construction and operation of markets.
Reviews classic and contemporary literature, but also organizes it in a way that provides a new and more advanced sociological view of markets.
Covers the theories, definitions and variety of forms of markets, as well as engagingly illustrating the theoretical discussion with empirical examples.
Accessible and engaging reading for students of economic sociology, and all those interested in how markets work in society.