Martial Arts For Dummies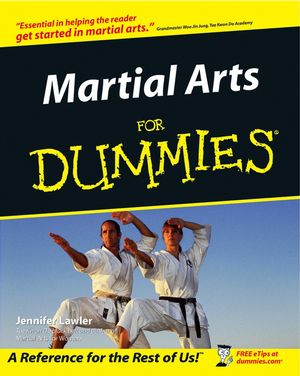 Martial Arts For Dummies
ISBN: 978-0-764-55358-5
Nov 2002
384 pages
Description
There's plenty of good reasons that millions of people around the world study martial arts.  Besides the fact  you can get a great workout when you study a martial art, you may also experience a rewarding balance between your mind, body, and spirit that you just won't  find anywhere else.  Plus, it can be a lot of fun!

No matter what shape you're in, martial arts is a great way to drop extra pounds, learn to defend yourself, and develop personal and physical discipline. Whether you're already studying a style of fighting or you're just considering it, you'll find everything you need to know in this helpful, friendly guide (including which movies to check out!).

The book breaks down the differences and presents the basics of each style of fighting, so you can make an informed choice about which style you want to study. You'll also find out what makes for a good instructor, so you can be sure that you're learning from the best. And there's much more.  You'll find out:
What martial arts is and is not
Five resolutions you must accept
Understanding the role of the instructor
How to set goals for yourself
All about the proper clothes, shoes, and equipment
How to prevent injuries
The philosophy of self defense
All about competing in tournaments
About Meditation and breathing techniques
The lowdown on weapons
There's also a helpful glossary of foreign-language terminology that you'll frequently encounter in the dojo –  that's the training hall – so you'll always be prepared. Whether you're looking for a new way to get in shape, or a new way to sharpen your mind, Martial Arts For Dummies is all you need to get started in Karate, Kung Fu, Tae Kwon Do, or any other style!
Introduction.

Part I: Martial Arts Essentials.

Chapter 1: Better than a Barroom Brawl.

Chapter 2: Martial Arts Culture.

Chapter 3: Choosing a Style.

Chapter 4: Choosing a School or Instructor.

Chapter 5: Go Get 'Em: Goals and Ranking Systems.

Chapter 6: Clothes, Shoes, and Equipment.

Chapter 7: Playing It Safe and Avoiding Injury.

Part II: Walking the Walk and Talking the Talk.

Chapter 8: Getting the Most from Your Training.

Chapter 9: Protecting Yourself: Self-Defense Details.

Chapter 10: Preparing for Competition without Losing Your Head (Literally).

Chapter 11: Working the Mind-Body-Spirit Connection.

Chapter 12: Just Like in the Movies: The Lowdown on Weapons.

Chapter 13: Using Martial Arts Outside of Class.

Part III: Styles, Techniques, and Tactics: An Up-Close Look.

Chapter 14: Karate.

Chapter 15: Kung Fu.

Chapter 16: Tae Kwon Do.

Chapter 17: Judo.

Chapter 18: Aikido.

Chapter 19: Escrima.

Chapter 20: Hapkido.

Chapter 21: Muay Thai.

Chapter 22: Jeet Kune Do and Eclectic Martial Arts.

Chapter 23: T'ai Chi Chuan.

Part IV: The Part of Tens.

Chapter 24: Ten Rules for the Martial Arts Classroom.

Chapter 25: Ten Qualities a Good Instructor Must Have.

Chapter 26: Ten Tips from the Master.

Chapter 27: Ten Cool Martial Arts Movies.

Part V: Appendixes.

Appendix A: Glossary.

Appendix B: Sources and Resources.

Index.