Mass Spectra of Designer Drugs: Including Precursors, Medicinal Drugs and Chemical Warfare Agents, 2 Volume Set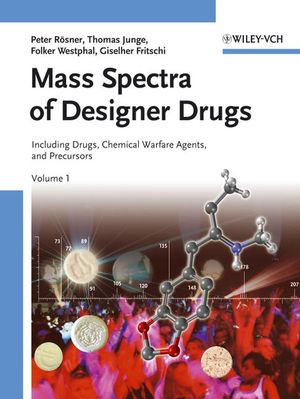 Mass Spectra of Designer Drugs: Including Precursors, Medicinal Drugs and Chemical Warfare Agents, 2 Volume Set
ISBN: 978-3-527-30798-2 April 2007 2087 Pages
Description
Based on the authors' several decades of professional experience, this unique data collection is tailor-made for criminal and forensic investigators.
It contains 8,800 mass spectrum records obtained from 4,379 compounds categorized as either designer or medicinal drugs, chemical warfare agents or explosives. It even covers those substances yet to be recorded by the police, but which are likely to be encountered by crime prevention and investigation authorities, in both the areas of illicit drugs and homeland security.
The perfect companion for users of the Roesner database, this print edition features a wealth of additional data not contained in the online version, such as U.S. and U.N. legal category information, chromatographic data and mass spectrum quality and similarity indices.
The collection contains 8800 records obtained from 4379 compounds from the following categories:
- designer drugs
- medicinal drugs
- chemical warfare agents
- explosives

Each record contains the following data:
- full or expanded mass spectrum (150 peaks on average)
- IUPAC name, WHO name (if any)
- synonyms and proprietary names
- legal category information according to United Nations, U.S.A. and German standards
- information on therapeutic and illicit modes of use
- structural formula
- molecular formula and exact molecular weight
- CAS number
- GC retention index (measured or calculated)
- information on recording conditions
- spectrum quality index (according to McLafferty) and verification index (matching with spectra from other published collections)


"Anyone working in mass spectrometry where one of these databases is applicable will be well advised to consider its addition to their tool kit for identification and confirmation." (J Am Soc Mass Spectrom, 2011)
"...the content of this compact, well-organized, and concise publication will be of tremendous use to clinical and forensic toxicologists as well as researchers." (Journal of Forensic Science, November 2007)
"It is very rich in information guidebook, which will be useful support for young scientists...but also for specialists..." (International Journal of Biological Macromolecules, 41/2007)