Mass Spectrometry and Hyphenated Techniques in Neuropeptide Research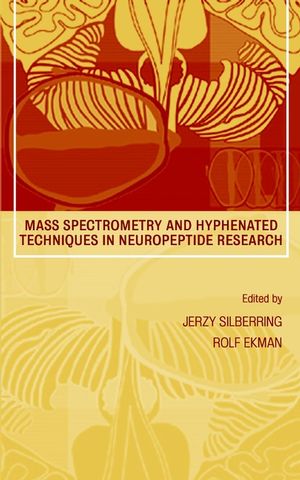 Mass Spectrometry and Hyphenated Techniques in Neuropeptide Research
ISBN: 978-0-471-35493-2
May 2002
576 pages
Product not available for purchase
Description
Mass spectrometry is a powerful analytical technique that is used to identify unknown compounds, to quantify known materials, and to elucidate the structural and chemical properties of molecules. In analyzing the effects of experimental drugs on the brain, it is the sole technique for identifying the presence and structure of neuropeptides–substances that indicate the effect of the drug. Mass Spectrometry and Hyphenated Techniques in Neuropeptide Research specifically explains how to apply the technology to this process.
Because the book is written by mass spectrometry users, as opposed to mass spectrometrists, the focus remains on practical applications of the technique. The authors demonstrate how mass spectrometry works, how to apply the technique to research, which types of instrumentation should be used for particular requirements, and how to plan experiments. Readers will learn why mass spectrometry provides more outcome features than other techniques in neuropeptide analysis, including simultaneous detection, identification of substances present in mixtures, and sequence information even when the residues are modified, blocked, or unusual. Among the chapters in this comprehensive text are:

-Sequencing of Peptides by Nanospray Mass Spectrometry
-Laser-Machined Microdevices for Mass Spectrometry
-Electron Capture Dissociation of Peptides
-Synthesis of Combinatorial Peptide Libraries
-Analysis of Tissues That Reflect Nervous System Disease

Doctoral students, researchers, and industry professionals in pharmacology, chemistry, biochemistry/biotechnology, and medicine will find Mass Spectrometry and Hyphenated
Introduction (P. Roepstorff).

Neuropeptides-Their Functional Significance and Strategies for their Identification (F. Nyberg).

Mass Spectrometry Instrumentation (A.& G. Brinkmalm).

Hyphenated Techniques (M. Raida).

Capillary Electrophoresis Coupled to Mass Spectrometry for Peptide and Protein Analysis (M. Wetterhall, et al.).

Sequencing of Peptides by Nanospray Mass Spectrometry (J. Kast & M. Wilm).

Laser-Machined Microdevices for Mass Spectrometry (Y. Lin, et al.).

Microdialys (P. Andrén).

Biomolecular Interaction Analysis Mass Spectrometry (BIA/MS) (D. Nedelkov & R. Nelson).

Ultrasensitive MALDI-TOF-MS with Picoliter Volume Sample Handling (D. Ericsson & J. Bergquist).

SELECTED APPLICATIONS: IN PEPTIDE RESEARCH.

Peptide Mapping Using MALDI-TOF-MS (U. Hellman).

Electron Capture Dissociation of Peptides (R. Zubarev).

Synthesis of Combinatorial Peptide Libraries (K. Rolka).

Fourier Transform Ion Cyclotron Resonance Mass Spectrometry for Peptide Analysis (K Håkansson, et al.).

N-Terminal Sequencing, Novel Application (D. Barofsky).

Sequencing by TOF-TOF Techniques (P. Juhasz).

Quantitative Analysis of Neuropeptides by MALDI-TOF-MS(J. Gobom & E. Nordhoff).

IN BIOSCIENCE.

Characterization of Peptides Bound to the Rat Class I MHC Molecule RTI-AIc1 (R. Jones, et al.).

Analysis of Tissues that Reflect Nervous System Disease (C. Nilsson).

Processing of Neuropeptides (J. Silberring).

Single-Cell MALDI (J. Sweedler).

The Dynamics of the Cell Nucleus Lymphocyte Nuclei Associated Peptides Studied by Mass Spectrometry (R. Ekman).

Appendix (A. Sciubisz).
"...a vital addition to a mass spectrometry library...the authors have done an excellent job..." (
Journal of the American Society for Mass Spectrometry
2003)
"...useful...a particularly timely reference that focuses on recent progress of mass spectrometry in protein research..." (Journal of the American Chemical Society, Vol. 125, No. 20, 2003)