Mass Spectrometry for Microbial Proteomics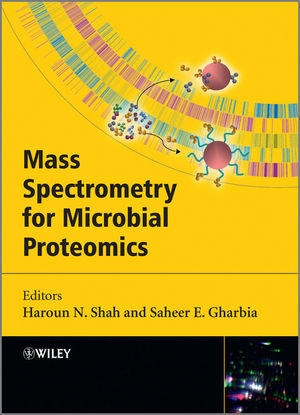 Mass Spectrometry for Microbial Proteomics
ISBN: 978-0-470-66549-7
Jun 2010
448 pages
Description
New advances in proteomics, driven largely by developments in mass spectrometry, continue to reveal the complexity and diversity of pathogenic mechanisms among microbes that underpin infectious diseases. Therefore a new era in medical microbiology is demanding a rapid transition from current procedures to high throughput analytical systems for the diagnosis of microbial pathogens.


This book covers the broad microbiological applications of proteomics and mass spectrometry. It is divided into six sections that follow the general progression in which most microbiology laboratories are approaching the subject –Transition, Tools, Preparation, Profiling by Patterns, Target Proteins, and Data Analysis.
Preface List of contributors
Microbial Characterisation; the Transition from Conventional Methods to Proteomics.
1) CHANGING CONCEPTS IN THE CHARACTERISATION OF MICROBES AND THE INFLUENCE OF MASS SPECTROMETRY
Haroun Shah et al
1.1 Background and early attempts to use mass spectrometry on microbes. 1.2 Characterisation of microorganisms by MALDI-TOF mass spectrometry; from initial ideas to the development of the first comprehensive database. 1.3 Characterisation of microorganisms from their intracellular/membrane bound protein profiles using affinity capture with particular reference to SELDI-TOF-MS. 1.4 Comparative analysis of proteomes of diverse strains within a species; use of 2-d fluorescence difference gel electrophoresis (dige). 1.5 Searching for low abundant and low molecular weight proteins and peptides using nanoparticles as a selective and concentration probes for MALDI-TOF-MS analysis. 2) MICROBIAL PHYLOGENY AND EVOLUTION BASED ON PROTEIN SEQUENCES (THE CHANGE FROM TARGETED GENES TO PROTEINS)
Radhey Gupta
2.1 Abstract 2.2 Microbial phylogeny: overview and key unresolved issues 2.3 New protein-based molecular markers for systematic and evolutionary studies 2.4 Molecular markers elucidating the evolutionary relationships among alpha (a)-proteobacteria 2.5 Molecular markers for the bacteroidetes-chlorobi phyla 2.6 Branching order and interrelationships among bacterial phyla 2.7 Importance of protein markers for discovering unique properties for different groups of bacteria 2.8 Concluding remarks 2.9 Acknowledgements 2.10 References
2: PROTEOMICS TOOLS AND BIOMARKER DISCOVERY.
3) OVERVIEW OF THE PROTEOMIC TOOLS AND IT LINKS TO GENOMICS
Raju Misra.
3.1 Protein identification 3.2 Peptide Mass Fingerprint (PMF) 3.3 Peptide Fragment Fingerprint (PFF) 3.4 Peptide sequencing 3.5 False discovery rates (FDR) 3.6 Validating protein identifications 3.7 Reference Database 3.8 Data storage 3.9 Biomarker discovery 3.10 Integrating genomics with proteomics 3.11 Reference List 4) HIGH THROUGHPUT BIOMARKER DISCOVERY IN MICROORGANISMS
Ming Fang
4.1 MALDI vs ESI 4.2 Tandem Mass Spectrometry and Hybrid Mass Spectrometers 4.3 Fragmentation in Tandem Mass Spectrometry Proteomic Strategies for Protein Identification 1. Bottom-up Proteomics 2. Top-down Proteomics Multidimensional Protein Identification Mass Spectrometry Based Targeted Protein Quantification and Biomarker Discovery Selected Reaction Monitoring Conclusions 5) MALDI MASS SPECTROMETRY IMAGING, A NEW FRONTIER IN BIOSTRUCTURAL TECHNIQUES: APPLICATIONS IN BIOMEDICINE
Simona Francese and Malcolm R. Clench
5.1 Introduction 5.2 Practical Aspects of MALDI-MSI 5.2 Applications 5.3 Microbial molecular investigation by MALDI TOF MS 5.4 Conclusions 5.5 References
3: PROTEIN SAMPLES PREPARATION TECHNIQUES
CONVENTIONAL APPROACHES FOR SAMPLE PREPARATION FOR LIQUID CHROMATOGRAPHY AND TWO-DIMENSIONAL GEL ELECTROPHORESIS
Vesela Encheva and Robert Parker
6.1 Introduction 6.2 Cell lysis methods 6.3 Sample preparation for 2D GE 6.4 Fractionation strategies 6.5 Sample preparation for Liquid Chromatography coupled to mass 6.6 Conclusion 6.7 Reference list 7) ISOLATION AND PREPARATION OF SPORE PROTEINS AND SUBSEQUENT CHARACTERISATION BY ELECTROPHORESIS AND MASS SPECTROMETRY
Nicola Thorne, Saheer Gharbia and Haroun Shah
7.1 Introduction 7.2 Experimental
2.1 Sporulation media
7.3 Conclusion 8) CHARACTERIZATION OF BACTERIAL MEMBRANE PROTEINS USING A NOVEL COMBINATION OF A LIPID BASED PROTEIN IMMOBILIZATION TECHNIQUE WITH MASS SPECTROMETRY
Roger Karlsson, Darren Chooneea, Elisabet Carlsohn, Vesela Encheva and Haroun Shah
8.1 Introduction 8.2 The surface proteome 8.3 Proteomics of pathogenic bacteria 8.4 Lipid-based protein immobilization technology 8.5 Salmonella Typhimurium – disease mechanism and outer membrane proteins 8.6 Outer membrane proteins of S. Typhimurium 8.7 Helicobacter pylori – disease mechanism and outer membrane proteins 8.8 Surface proteins of intact Helicobacter pylori 9) Wider Protein Detection from Biological Extracts by the Reduction of Dynamic Concentration Range.
Luc Guerrier, Egisto Boschetti and Piergiorgi Roghetti
9.1 Introduction 9.2 Dealing with low-abundance protein discovery 9.3 Conclusions and future prospects 9.4 References 10) 3D-gel electrophoresis - a new development in protein analysis.
Robert Ventzki and Josef Stegemann
10.1. Introduction 10.2. Methods 10.3 Results and discussion 10.4 References
SECTION 4: CHARACTERISATION OF MICROORGANISMS BY PATTERN MATCHING OF MASS SPECTRAL PROFILES AND BIOMARKER APPROACHES REQUIRING MINIMAL SAMPLE PREPARATION.
11) Microbial Disease Biomarkers using ProteinChip Arrays
Shea Hamilton, Michael Levin, J. Simon Kroll, Paul R. Langford
11.1 Introduction 11.2 Biomarker studies involving patients infected with viruses 11.3 Biomarker studies involving patients infected with parasites 11.4 Biomarker studies involving patients infected with bacteria 11.5 Other diseases of possible infectious origin 11.6 Conclusions 11.7 References
12) MALDI-TOF MS and microbial identification: years of experimental
development to an established protocol.
Wibke Kallow, Marcel Erhard,
Haroun N. Shah, Emmanuel Raptakis, Martin Welker.
12.1 Identification of Microorganisms in Clinical Routine 12.2 Mass Spectrometry and Microbiology 12.3 Mass Spectral 'Fingerprints' of Whole Cells 12.4 Reproducibility of Mass Spectral Fingerprints 12.5 Species and Strain Discrimination by Mass Spectrometry 12.6 Pattern Matching Approaches for automated Identification 12.7 Mass Spectral Identification of Microorganism – Requirements for Routine Diagnostics 12.8 Automated Mass Spectral Analysis of Microorganisms in Clinical Routine Diagnostics 12.9 Acknowledgements and references
5: Targeted Molecules and Analysis of Specific Microorganisms.
13) Whole Cell MALDI Mass Spectrometry for the Rapid Characterisation of Bacteria; A Survey of Applications to Major Phyletic Lines in Microbial Kingdom.
Ben van Baar
13.1 Introduction 13.2
Scope
13.3
Reproducibility
13.3.1
Factors concerning the sample
13.4
Factors concerning the MALDI MS process
13.5 Sample application and ionisation 13.5
Data analysis
13.6 Spectrum libraries 13.6
Whole cell MALDI MS of particular bacteria genera and species
Bacillus
spp
.
Staphylococcus
spp.
Streptococcus
spp.
Mycobacterium
spp.
Other Gram-positive bacteria
Escherichia coli
Gram-negative food- and waterborne pathogen proteobacteria, other than E. Coli
Typical sexually transmitted pathogens: Neisseria
spp. and
Haemophilus
spp.
Gram-negative biothreat agent bacteria
Other Gram-negative bacteria
Pathogenic Cyanobacteria
Strategies for the identification of biomarkers in whole cell MALDI MS spectra
Protein database consideration
On-target treatment and analysis Off-target' Analysis and correlation with proteomics studies
General consideration of biomarker identification strategies
Conclusions and outlook 14) The power of Gel-based proteomics to understand physiology in
Bacillus subtilis
Haike Antelmann and Michael Hecker
Introduction Results 1 Proteomics of protein secretion mechanisms in
Bacillus subtilis
1.1. Protein export machineries of
B. subtilis
1.1 The extracellular proteome of
B. subtilis
1.2 The cell wall proteome of
B. subtilis
1.3. The membrane attached lipoproteome of
B. subtilis
1.3 The proteome analysis of protein secretion mechanisms in
B. subtilis
2 Definition of proteomic signatures to study cell physiology
2.1. Proteomic signatures of B. subtilis in response to stress and starvation
2.2. Proteomic signatures of B. subtilis in response to thiol-reactive electrophiles uncovered novel regulatory mechanisms
2.3. The MarR/DUF24-family YodB repressor is directly sensing thiol- reactive electrophiles
via
the conserved Cys6 residue 3 Proteomics as tool to visualize reversible and irreversible thiol- modifications
3.1. The thiol-redox proteome of B. subtilis in response to diamide and quinones
3.2. Depletion of thiol-containing proteins by quinones due to thiol-(S)- alkylation
4 Proteomics as tool to define regulon structures and targets for non- coding RNAs
5 Acknowledgment
15) Mass Spectrometry in the study of Tularemia Pathogenesis.
Jiri Stulik, Juraj Lenco, Jiri Dresler, Jana Klimentova, Lenka Hernychova, Lucie Balonova and Alena Fucikova.
15.1
Introduction to molecular p
at
hogenesis of
Francisella tularensis
infection
15.2 Francisella tularensis
LVS proteome alter
at
ions induced by different temper
at
ures and st
at
ionary phase of growth 15.3Analysis of membrane protein complexes of
Francisella tularensis
15.4 Analysis of
Francisella tularensis
glycoproteins and phosphoproteins 15.5Identific
at
ion of
Francisella tularensis
transcription factors potentially involved in its virulence 15.6 Acknowledgements References 16) Bacterial Post-Genomics for Vaccine development
Giulia Bernardini, Daniela Braconi and Annalisa Santucci
Summary comparative genomics transcriptomics proteomics and immmunoproteomics other high-throughput technologies meningococcal vaccines and reverse vaccinology
helicobacter pylori
vaccines conclusions references
6 Statistical Analysis of 2D Gels and Analysis of Mass Spectral Data
Machine Learning Techniques for the Analysis of Mass spectrometry Data.
Graham Ball and Ali Al-Shahib
17.1 Introduction 17.2 Pre-processing MS data 17.3 Classification of MS data 17.4 Evaluation of Classification Models 18) Mass Spectrometry for microbial Proteomics: Issues in data analysis with electrophoretic or mass spectrometric expression proteomic data.
Natasha A. Karp
Title page Foreword 18.1 Introduction 18.2 Experimental design 18.3 Data analysis 18.4 Validation 18.5 Conclusions 18.6 Figure legends 18.7 References
Section 7: DNA Resequencing by MALDI-TOF-Mass Spectrometry and its
Application to Traditional Microbiological Problems.
(19) Comparative DNA sequence analysis and typing using Mass Spectrometry
Christiane Honisch,Yong Chen and Franz Hillenkamp
19.1 Introduction 19.2 Comparative Sequence Analysis by MALDI-TOF MS 19.3 Applications of nucleic acid analysis by MALDI-TOF MS in clinical microbiology 19.4 Conclusion References (20) Transfer of a Traditional Serotyping System (Kauffmann-White) onto a MALDI-TOF-MS platform for the rapid Typing of
Salmonella
isolates
.
Chloe Bishop, Cath Arnold and Saheer Gharbia
Typing of salmonella isolates
1.1 Introduction
1.2 Salmonella, the pathogen
Biology Pathogenesis Clinical Disease
1.3 Complex genetic structure and the need to subtype this genus
Phylogeny Virulence and Gene Transfer Necessity to subtype >
1.4 Antigenic Analysis - The Traditional Kauffmann - White Schema and its future
Serotyping Flagellar Antigens Flagellar Variation Somatic Antigens
1.5 Sequence-based methods to determine serotypes
Flagellin sequences correspond directly to Salmonella serotype. Specific SNPs Subtyping by antigen sequence Variation of the
Rfb
Genes
1.6 Transferring the Sequences to a MALDI platform for Rapid Analysis
Intro Different methods available MALDI-TOF data analysis
Salmonella
molecular serotyping as a Case Study Gene Selection Results Overview Clustering and Sequence Variation of Amplicons
1.7 Conclusions and Summary
Closing Remarks
"Summary Mass Spectrometry of Microbial Proteomics provides an authoritative guide to the expanding field of microbial proteomics."  (Anal Bioanal Chem, 2011)