Master Builders: A Guide to Famous American Architects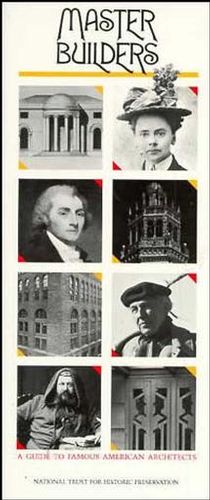 Master Builders: A Guide to Famous American Architects
ISBN: 978-0-471-14402-1 October 1985 204 Pages
Description
"The Architect Builds Visible History." Vincent Scully Which architect designed the pedestal for the Statue of Liberty? Who put a Chippendale pediment atop a skyscraper and quickly created a landmark of contemporary architecture? Who was the only American architect to receive the Congressional Medal of Honor for bravery during the Civil War? Which architect designed a castle in California for William Randolph Hearst? Master Builders answers these and scores of other questions about more than 100 architects and builders who have left indelible marks on American architecture. This unique guide puts faces with America's most well-known and loved buildings--from the U.S. Capitol and Washington Monument through the first skyscrapers and landmarks of the Post-Modern movement. "Why should you want to know more about these architects?" asks Roger K. Lewis in his introduction. "The reason is simple. You are undeniably connected to the built environment that you inhabit, use, see and respond to. You affect building design, and building design affects you." Can you pair these master builders with their works? Frank Lloyd Wright U.S. Capitol Skidmore, Owings and Merrill Central Park Adler and Sullivan University of Virginia Ludwig Mies van der Rohe Glass House William Thornton Home Insurance Building Orson Squire Fowler Fallingwater H. H. Richardson CBS Building Frederick Law Olmsted San Simeon James Renwick Seagram Building Robert Mills Trinity Church, Boston I. M. Pei Salk Institute Julia Morgan Sears Tower Eero Saarinen Smithsonian "Castle" Cass Gilbert John E. Kennedy Library McKim, Mead and White U.S. Supreme Court Louis I. Kahn Chicago Stock Exchange Thomas Jefferson Octagonal Houses Philip Johnson Pennsylvania Station William Le Baron Jenney Washington Monument
Table of contents
Partial table of contents:

William Thornton (C. Harris).

Charles Bulfinch (H. Kirker).

Thomas Jefferson (W. Beiswanger).

John Haviland (J. Cohen).

James Renwick (S. Rattner).

Pattern Books (D. Gebhard).

Frank Furness (J. O'Gorman).

Richard Morris Hunt (P. Baker).

Burnham and Root (T. Hines).

Cass Gilbert (P. Murphy).

Greene and Greene (R. Makinson).

Bernard Maybeck (R. Longstreth).

Julia Morgan (S. Boutelle).

Richard Neutra (A. Clark).

Louis I. Kahn (J. Lobell).

I.

M.

Pei (P. Blake).

More Historic American Architects.

Further Reading.

Information Sources.

Index of Architects.