Master Class with Toba Garrett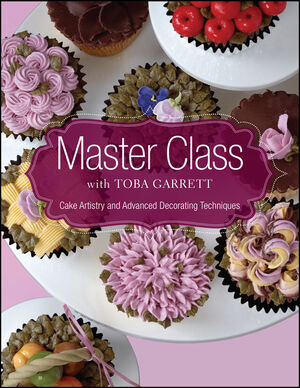 Master Class with Toba Garrett
ISBN: 978-0-470-58122-3 January 2013 240 Pages
Description
Master Class with Toba Garrett provides readers with a springboard to infinite ideas of what can be achieved in the advanced art of cake decorating. A foremost expert in this field, Garrett has taught some of the top cake artists working today. She shares tips and techniques here to bring readers to the next level in their cake decorating skills.
Acknowledgments
Preface
Introduction to Cake Artistry
The Essentials
The Cake Designs
Anniversary Cakes
Birthday Cakes
Grooms' Cakes
Wedding Cakes
Seasonal Cakes
Small Bites: Decorated Cookies and Cupcakes
Recipes
Appendix
Index
A perfect blend of inspiration and instruction, with stunning photos of finished cakes as well as step-by-step photos and detailed instruction on advanced decorating techniques. Topics include Scroll Work, Advanced Piping, Australian and Oriental Stringwork, and much more.
The book covers a wide variety of cakes, including wedding and groom's cakes, birthday cakes, children's fantasy cakes, and whimsical cakes for any occasion. In addition, chapters on cupcakes and decorated cookies will cover advanced decorating techniques for smaller items.
Essential skills are reviewed before advancing into the numerous projects and recipes.