Master Scheduling: A Practical Guide to Competitive Manufacturing, 3rd Edition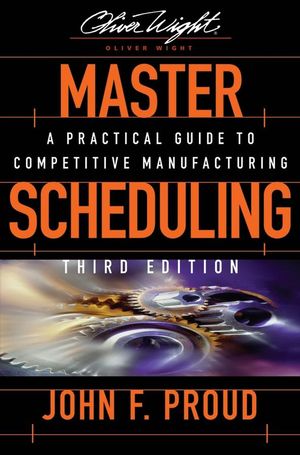 Master Scheduling: A Practical Guide to Competitive Manufacturing, 3rd Edition
ISBN: 978-0-471-75727-6 August 2013 688 Pages
Description
Master scheduling is an essential planning tool that helps manufacturers synchronize their production cycle with actual market demand. The third edition of this easy-to-follow handbook helps you understand the basic and more advanced concepts of master scheduling, from implementation to capacity planning to final assembly techniques. Packed with handy checklists and examples, Master Scheduling, Third Edition delivers guidelines and techniques for a world-class master schedule.
Cannot be combined with any other offers.
Original Price:$169.50
Purchased together:$127.13
save $42.37
Table of contents
Acknowledgments.
Foreword.
Introduction.
1. Chaos in Manufacturing.
Problems in Manufacturing.
Symptoms of Master Scheduling Problems.
The Inaccurate Forecast.
Add the Solutions.
The Case of the Overloaded Master Schedule.
Getting Out of the Overloaded Master Schedule.
2. Why Master Scheduling?
Between Strategy and Execution.
What Is the Master Schedule?
Maximizing, Minimizing, and Optimizing.
The Challenge for the Master Scheduler.
MPS, PRPII, ERP, and SCM.
Enterprise Resource Planning.
Supply Chain management.
Where Have All the Orders Gone?
The Four Cornerstones of manufacturing Revisited.
So, Why Master Scheduling?
3. The Mechanics of Master Scheduling.
The Master Schedule Matrix.
Master Scheduling in Action.
How master Scheduling Drives Material Planning.
The What, Why, and How of Safety Stock.
Planning Time Fence.
Demand Time Fence.
Master Schedule Design Criteria.
4. Managing with the Master Schedule.
The Master Scheduler's Job.
Moving a Customer Order to an Earlier Date.
Action and Exception Messages.
Six Key Questions to Answer.
Answering the Six Questions.
Time Zones as Aids to Decision Making.
Moving a Manufacturing Order to an Earlier Date.
Planning Within Policy.
No Past Dues.
Managing with the Planning Time Fences.
Load-Leveling in manufacturing.
Lean manufacturing and Continuous Improvement.
Mixed-Model Scheduling.
Planned Plant Shutdowns.
The Production Shutdown.
5. Using the MPS Output in a Make-to-Stock Environment.
The Master Schedule Screen.
Working a Make-to-Stock Master Schedule.
Time Phasing the Bill-of-material.
Understanding the Action Messages.
Bridging Data and Judgment.
Seasonality and Inventory Buildup.
The Six Key Questions Revisited.
Scheduling in a World of many Schedules.
From Master Scheduling to Material Requirements Planning.
6. What to Master Schedule.
Manufacturing Strategies.
Choosing the Right Strategy.
Master Scheduling and Product Structures.
Multilevel Master Scheduling.
Tying the Master Schedule and the Production Plan Together.
Master Scheduling Capacities, Activities, and Events.
7. Scheduling in a Flow Environment.
Different Manufacturing Environments.
Similarities Between Intermittent and Flow Environments.
Product Definition.
The Planning Process.
An Extended Example.
Catalysts and Recovered Material.
8. Planning Bills.
The Overly complex Bill-of-Material.
Anatomy of a Planning Bill.
Creating Demand at the Master Schedule Level.
Restructuring Company Bills into Planning Bills: A Case Study.
9. Two-Level MPS and Other Advanced techniques.
  The Backlog Curve.
Scheduling and the Backlog Curve Zones.
Identifying Demand.
Creating the Master Schedule in a Make-to-Order Environment.
Option Overplanning.
Calculating Projected Available Balance.
Calculating Available-to-Promise.
Using ATP to Commit Customer Orders.
Option Overplanning in the Make-to-Stock Environment.
Master Scheduling in make-to-Order and Make-to-Stock Environments: A Comparison.
10. Using MPS Output in a Make-to-Order Environment.
Using Planning Bills to Simplify Option Scheduling.
The Scheduling Process.
The Common-Items Master Schedule.
Analyzing the Detail data.
Balancing the Sold-Out Zone for Common Items.
Handling Abnormal Demand.
Action Messages.
Working the Pseudo Options.
Master Scheduling a Purchased item in the Planning Bill.
Linking Master Schedule and material Plan.
11. Master Scheduling in Custom-Product Environments.
The Unique Challenges of the ETO Environment.
The Case of New-Product Introductions.
Master Scheduling Activities and Events.
Launching a New Product.
Prices and Promises to Keep.
What Can go Wrong.
Integrating Design and Operation Activities.
Plan Down, Replan Up.
Capacity-Driven Environments.
Make-to-Contracts Environments.
The Need for Standards.
When Supply Can't Satisfy Demand.
12. Finishing Schedules.
Manufacturing Strategy and Finishing Schedules.
Manufacturing Approaches.
Other Manufacturing Issues.
Sequencing.
Traditional Means of Communicating the Schedule.
Do We Really Need These Computers?
The Kanban System.
Tying It All Together.
Final Assembly or Process Routings.
Configuring and Building to a Customer Order.
Finishing or Final Assembly Combined Materials and Operations List.
Choosing the Most Effective Approach.
Finishing Schedule versus Master Schedules.
13. Sales and Operations Planning.
Workable, Adjustable Plans.
S&OP and the Master Schedule.
The Case of S&OP at AutoTek.
Synchronizing Demand and Supply.
14. Rough Cut Capacity Planning.
Know Before You Go.
Rough Cut Revealed.
The Rough Cut Process.
Creating Resource Profiles.
Finalizing the Resource Profile.
Capacity Inputs.
Overloading Demonstrated Capacity.
Rough Cut at the Master Scheduling Level.
Working the rough Cut Capacity Plan.
What-If Analysis and Rough Cut Capacity Planning.
Screen and Report Formats.
The Limitations and benefits of Rough Cut capacity Planning.
Implementing the Rough Cut Process.
Final Thoughts.
15. Supply Management.
Supply Management in Action.
Product-Driven, Aggregated Inventory Planning.
Will the Plan Work?
Product-Driven, Disaggregated Inventory Planning.
Product-Driven, Aggregated Backlog Planning.
Product-Driven, Disaggregated Backlog Planning.
Production-Driven Environments.
Interplant Integration.
Should Companies Have Supply Managers?
16. Demand Management.
What Is Demand Management?
The Role of Forecasting in the Company: The Case of Hastings & Brown.
Problems with Forecasting.
Coping with Forecast Inaccuracies.
It's about Quantities.
It's about time.
Small Numbers and the Master Schedule.
Demand and Forecast Adjustment.
Computer Alert.
The Problem of Abnormal Demand.
Customer Linking.
Getting Pipeline Control.
Distribution Resource/Requirements Planning.
Multiplant Communications.
Tell Us What You want, and We'll Do the Rest, Sir.
Available-to-Promise.
ATP with Two Demand Streams.
Should Companies Have Demand Managers?
17. Effective Implementation.
Proven Path to Successful Operational Excellence.
The Decision Point.
Going on the Air.
The path to master Scheduling Implementation.
Stage 1: Evaluation and preparation.
Master Scheduling Vision Statement (A Sample).
Stage 2: Design and Action.
Business Meeting Agenda (A Sample).
Master Scheduling Procedure Action Message reviews (A Sample).
Stage 3: Launch and Cutover.
Who's in Control of the Software?
Deterrents to Successful Implementation of the Master Scheduling Process.
The Master Scheduler's List of Responsibilities.
Master Schedule Position Description.
Epilogue.
Order from Chaos.
Appendix A. Class A master Scheduling Process and Performance Checklists.
Appendix B. Master Scheduling Sample Implementation Task List.
Appendix C. Master Scheduling Policy, Procedure, and Flow Diagram Listing.
Appendix D. Master Scheduling Sample Process Flow Diagram.
Glossary.
Index.