Master VISUALLY® Dreamweaver® CS3 and Flash® CS3 Professional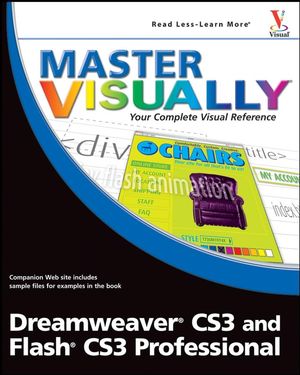 Master VISUALLY® Dreamweaver® CS3 and Flash® CS3 Professional
ISBN: 978-0-470-17745-7
Dec 2007
665 pages
Product not available for purchase
Description
Here's the intermediate-to-advanced-level Dreamweaver and Flash reference that shows you how instead of telling you why. Hundreds of succinctly captioned, step-by-step screen shots reveal how to accomplish more than 340 Dreamweaver CS3 and Flash CS3 Professional tasks. Learn to set up a Dreamweaver site, synchronize local and remote sites, insert and resize images, create hyperlinks, tables, and forms, format with layers and style sheets, add objects and graphics with Flash, use animation and special effects, and much more.
Part I: Dreamweaver Basics.
1) Setting Up Your Dreamweaver Site.
2) Exploring the Dreamweaver Workspace.
3) Changing a Web Site.
Part II: Adding Design Elements.
4) Adding and Formatting Text.
5) Working with Images.
6) Creating Hyperlinks.
7) Creating Tables.
8) Creating Forms.
Part III: Advanced Dreamweaver Features.
9) Setting Up Reusable Web Page Elements.
10) Formatting with Style Sheets and AP Elements.
11) Attaching Behaviors to Web Page Elements.
12) Adding Web Page Elements and Effects with the Spry Framework.
13) Animating a Web Page with Timelines.
14) Designing with Frames.
Part IV: Creating a Dynamic Site.
15) Setting Up a Dynamic Site.
16) Using a Database with a Web Site.
17) Advanced Dynamic Topics.
Part V: Mastering Flash Basics.
18) Flash Fundamentals.
19) Adding Objects and Graphics.
20) Enhancing and Editing Objects.
21) Working with Text.
Part VI: Adding Movie Elements.
22) Working with Layers.
23) Working with Symbols and Instances.
Part VII: Animating in Flash.
24) Creating Basic Animation in Flash.
25) Creating Animation by Tweening.
Part VIII: Adding Finishing Touches.
26) Adding Special Effects
27) Adding Sound.
28) Working with Video.
Part IX: Building Interactive Elements.
29) Creating Buttons.
30) Adding Interactivity with Actions.
Part X: Finalizing Your Project.
31) Distributing Flash Movies.