MasteringTM 3ds max 4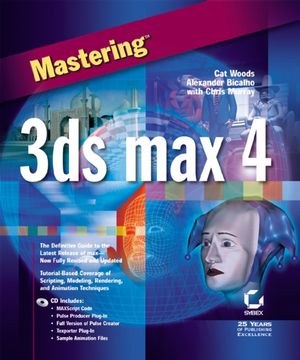 MasteringTM 3ds max 4
ISBN: 978-0-782-12938-0
Jul 2001
953 pages
Product not available for purchase
Description
Make the Most of Today's Leading Animation Package

With release 4, max further establishes itself as today's dominant modeling, animation, and rendering package. And with its fully revised and updated coverage, Mastering 3ds max 4 further establishes itself as the definitive max resource--just the book you need to master all the techniques supported by this powerful product. Inside, you'll learn all about sculpting and texturing your characters, setting them in motion, lighting the scene, and producing the final animation--for movies, games, television, and the Web. You also get in-depth instruction in MAXScript, including detailed explanations of all that's new to this release. Coverage includes:
* Understanding basic 3D concepts
* Modeling in polygons, patches, and NURBS
* Creating detailed models
* Optimizing models for low-poly environments
* Applying textures for real-time and pre-rendered output
* Animating using parametric animation, forward kinematics, inverse kinematics, and character studio
* Fine-tuning animation by editing keys and transitions
* Creating drama with lighting
* Applying post-process effects
* Cutting and cross-fading between shots
* Compositing in Video Post and combustion
* Exporting to Web 3D with Pulse
* Getting started with MAXScript
* Using scripting for scene manipulation
* Using scripting for animation
* Customizing the user interface
* Defining autostart scripts
* Creating your own plug-ins using MAXScript
Introduction.
Part I: Introduction and Theory.
Chapter 1: Image Creation with Computer Graphics.
Chapter 2: Getting Oriented to max.
Chapter 3: Meeting the max Interface.
Part II: Modeling.
Chapter 4: Mesh Modeling.
Chapter 5: Patch Modeling.
Chapter 6: NURBS Modeling.
Part III: Applying Texture Maps and Materials.
Chapter 7: Basic Mapping and Materials.
Chapter 8: Advanced Materials.
Part IV: Animation.
Chapter 9: Beginning to Animate.
Chapter 10: Advancing Your Animation Skills.
Chapter 11: Hierarchical Character Animation.
Part V: Refining the Rendering.
Chapter 12: Coloring with Light.
Chapter 13: Rendering and Environmental Effects.
Chapter 14: Post-Production and Compositing.
Part VI: Mastering MAXScript.
Chapter 15: MAXScript Basics.
Chapter 16: Manipulating Scenes with MAXScript.
Chapter 17: Creating a User Interface.
Chapter 18: Animating with MAXScript.
Chapter 19: Advanced Scripting.
Chapter 20: Plug-in Scripts.
Part VII: Appendices.
Appendix A: Exporting to Web 3D with Pulse Producer and Creator.
Appendix B: Keyboard Shortcuts to Remember.
Index.
Chapter
Page
Details
Date
Print Run
Combined Errata


Page 69

Third code snippet, "For wksEach In" should be 'For Each wks In'

Page 97

Fig 4.11 - Data in CustomerID column of tblOrder is wrong; should be 4, 23, 15,2, 23, 2 for Records 1 thru 6 respectively.

Page 195

Next to last Bullet, corrected line should read "VBA objects including VBE, COMAddins, and References"

Page 202

Connection Strings code, remove the blank line that crept in during editing.

Page 203

2nd Bullet, change "User ID" to "Persist Security Info", to "User ID" to "Extended Properties"

Page 231

Code snippet in middle of page, should be rst.Options = adCmdStoredProc Or adAsyncExecute

Page 265

Under Using the Filter Property, 2nd line of code ahould have a trailing quote, rst.Filter = "[Age] > 35"

Page 340

bottom line.
varTestVariable = cboTestCombo(2, 3)
should read
varTestVariable = cboTestCombo.Column(2, 3)

Page 827

7th line of code, .ConvertToTable should be .ConvertToTable(vbTab)

Page 917

Para. at bottom of page, 1st line, "adhHandleErr" should be 'adhHandleError'

Page 935

The code that checks if the program is compiled in 'debug mode'
references the wrong constant (adhcFDebug instead of DEBUGGING).

The 6th line should read

#If DEBUGGING Then

Page 962

TABLE 15.2, in the last row of the table, the default value for SharedAsyncDelay should be 500




---