Mastering AutoCAD 2005 and AutoCAD LT 2005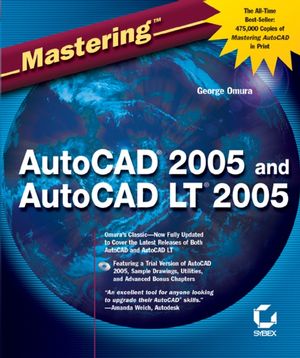 Mastering AutoCAD 2005 and AutoCAD LT 2005
ISBN: 978-0-470-11329-5
Dec 2006
1184 pages
Product not available for purchase
Description
"Omura's explanations are concise, his graphics are excellent, and his examples are practical."
—CADalyst

The Definitive CAD Resource Updated for 2005

Mastering AutoCAD 2005 and AutoCAD LT 2005 is a fully updated edition of Omura's enduring masterpiece. Once again, he delivers the most comprehensive and comprehensible coverage for AutoCAD and AutoCAD LT users including information on the Sheet Set Manager, field command, table tool and the software's other productivity enhancers. If you've never used AutoCAD, the tutorial approach and step-by-step instruction will help you get started right away. If you're an AutoCAD veteran, in-depth explanations of AutoCAD's newest and most advanced features will help you become an AutoCAD expert. Whatever your experience, however you use AutoCAD, you'll refer to this indispensable resource again and again.

Coverage includes:
Finding your way around the AutoCAD interface
Creating and developing an AutoCAD drawing
Keeping track of your projects with the new sheet set manager
Importing spreadsheets and editing tables with the new Table tool
Updating text automatically with the new field command
Controlling your drawings' printed output
Discovering hidden features
Mastering the 3D modeling and rendering process
Customizing AutoCAD
Linking drawings to databases and spreadsheets
Managing custom symbols
Securing and authenticating your files
Aligning and coordinating Layout views
Using Publish to share files with non-AutoCAD users
Note: CD-ROM/DVD and other supplementary materials are not included as part of eBook file.
Introduction.
Part 1: The Basics.
Chapter 1: This Is AutoCAD.
Chapter 2: Creating Your First Drawing.
Chapter 3: Learning the Tools of the Trade.
Chapter 4: Organizing Your Work.
Part 2: Building on the Basics.
Chapter 5: Editing for Productivity.
Chapter 6: Enhancing Your Drawing Skills.
Chapter 7: Printing, Plotting, and Layouts.
Chapter 8: Adding Text to Drawings.
Chapter 9: Using Dimensions.
Part 3: Becoming an Expert.
Chapter 10: Attributes—Storing Data with Graphics.
Chapter 11: Copying Pre-existing Drawings into AutoCAD.
Chapter 12: Power Editing.
Chapter 13: Drawing Curves and Solid Fills.
Chapter 14: Getting and Exchanging Data from Drawings.
Part 4: 3D Modeling and Imaging.
Chapter 15: Introducing 3D.
Chapter 16: Using Advanced 3D Features.
Chapter 17: Rendering and Animating 3D Drawings.
Chapter 18: Mastering 3D Solids.
Part 5: Customization and Integration.
Chapter 19: Introduction to Customization.
Chapter 20: Integrating AutoCAD into Your Projects and Organization.
Chapter 21: Managing and Sharing Your Drawings.
Chapter 22: Keeping a Project Organized with Sheet Sets.
Appendices.
Appendix A: Installing and Setting Up AutoCAD.
Appendix B: Hardware and Software Tips.
Appendix C: System and Dimension Variables.
Index.
Chapter
Page
Details
Date
Print Run
Combined Errata


Page 0CD

error message "can't open cut-ldr.dwg" - Missing file cut-ldr.dwg See Detailed Message

Page 132

Under the section called "Inserting a Symbol," item 2 reads as
> follows:
> Draw a rectangle 7"-6" x 5". ... is at coordinate 1"-10", 1"-10" ...
This should read:
Draw a rectangle 7'-6" x 5'. ... is at coordinate 1'-10", 1'-10" ...
(The inch mark, ", has been used where the foot mark, ', should have
been used.)

Page 136

In the section, "Using an
Existing Drawing as a Symbol" under item 5:
Pick a point near coordinates 7"-2", 2"-4"...
Should read:
Pick a point near coordinates 7'-2", 2'-4"...

in item 6:
... In this case, you want a 3" door. ... To get that from a 3" door,
you need an X scale factor of 12 ...
Should read:
... In this case, you want a 3' door. ... To get that from a 3" door,
you need an X scale factor of 12 ...

Page 140

In the second item 2:
Now insert the door block again ... near coordinate 9"-4",2"-1".
Should read:
Now insert the door block again ... near coordinate 9'-4",2'-1".

Page 148

#3
Instructions states to enter @8"2"<90 to copy the workstation 8" feet-, 2" inches vertically, when it should state @8'2"<90. TIP currently reads…and typing 8" 2". It should read…and typing 8' 2".

first step 5 currently reads…Copy this workstation 8" -2". It should read…Copy this workstation 8' -2".

Page 178

Step 10
step 10 currently reads…the opening of the tub area, from coordinate 4" -4" ,1" -10" to coordinate 4" -4" ,6" -10". It should read…the opening of the tub area, from coordinate 4' -4" ,1' -10" to coordinate 4' -4" ,6' -10".
paragraph 2 under Controlling Line-Type Scale
paragraph 2 under Controlling Line-Type Scale currently reads…Because you are working at a scale of 1" = 1". It should read…Because you are working at a scale of 1" = 1'.

Page 179

step 3 currently reads…the scale conversion factor for a 1" = 1" scale. It should read…the scale conversion factor for a 1" = 1' scale.

Page 180

step 2 currently reads…At the Enter base point <0" -0" ,0" -0" , 0" -0">. It should read…At the Enter base point <0' -0" ,0' -0" , 0' -0">.

Page 240

first step 3 currently reads…Set up the drawing for a 1/8" = 1" -0" scale. It should read…Set up the drawing for a 1/8" = 1' -0" scale.

First step 5 currently reads…and set the grid to 8". It should read…and set the grid to 8'

First step 5 currently reads…divisions in a 1/8" = 1" -0" scale drawing. It should read…divisions in a 1/8" = 1' -0" scale drawing.

Step 1 currently reads…at coordinate 31" -5" ,43" -8". It should read…31' -5" ,43' -8".

Page 241

Second step 2 currently reads…at a distance of 28" -10". It should read…at a distance of 28' -10".

Second step 3 currently reads…at coordinate 89" -1" ,76" -1". It should read…at coordinate 89' -1" ,76' -1".

Page 242

Step 4 currently reads…to the right 74" -5". It should read…to the right 74' -5".

Page 248

Step 7 currently reads…click near the coordinate 26" ,40". It should read…click near the coordinate 26' ,40'

Step 8 currently reads…click a location near the coordinate 91" ,82". It should read…click a location near the coordinate 91' , 82'.

Page 256

Step 1 currently reads…draw the 3" -0" x 8" -0" outline. It should read…draw the 3' -0" x 8' -0" outline.

Step 3 currently reads…value for Snapbase <0" -0" ,0" -0">. It should read…value for Snapbase <0' -0" ,0' -0">.

Page 261

Step 5 reads…to widen the hatch pattern by 1". It should read…to widen the hatch pattern by 1'.

Page 274

Step 5 currently reads…Enter 31" -5" ,43" -8". It should read…Enter 31' -5" ,43' -8".

Page 295

Step 4 currently reads…Then select 1/16" = 1" -0". It should read…Then select 1/16" = 1' –0".

Page 301

Second paragraph under Plot Scale, line 2 currently reads…drawing at a scale of 1" = 1". It should read…drawing at a scale of 1' = 1".

Last paragraph (TIP), line 2 currently reads…at a scale of 1/8" =1" -0". It should read…at a scale of 1/8" = 1' -0".

Page 302

Second paragraph under Scale, line 3 currently reads…another option such as 1/8" = 1" -0". It should read…another option such as 1/8" = 1' -0".

Page 310

Step 3 currently reads…Open the list box and select 1/16" = 1". It should read…Open the list box and select 1/16" = 1'.

TIP following step 3 currently reads…The scale of 1/16" = 1". It should read…The scale of 1/16" = 1'.




---