Mastering Autodesk VIZ 4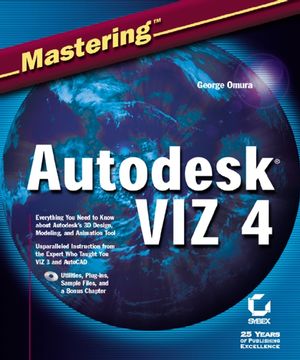 Mastering Autodesk VIZ 4
ISBN: 978-0-782-14132-0
Aug 2002
912 pages
Product not available for purchase
Description
Autodesk VIZ 4 is a powerful real-time 3D design, modeling, and animation tool from Autodesk, makers of AutoCAD. The follow-up to 3D Studio VIZ 3.0, VIZ 4 now incorporates a previously separate program called Lightscape. Key new features include powerful lighting functions such as radiosity and global illumination, as well as a dramatically upgraded interface. This comprehensive guide describes the full range of VIZ 4's new capabilities and shows architects, mechanical and civil engineers, planners, interior designers, and other design professionals how to create 3D models quickly and intuitively.
Introduction.
Chapter 1: Getting to Know VIZ.
Chapter 2: Introducing VIZ Objects.
Chapter 3: Creating Shapes with Splines.
Chapter 4: Editing Meshes for Complex Objects.
Chapter 5: Organizing and Editing Objects.
Chapter 6: Adding Cameras and Lights.
Chapter 7: Enhancing Models with Materials.
Chapter 8: Controlling Lights and Materials.
Chapter 9: Staging Your Design.
Chapter 10: Working with Files.
Chapter 11: Using Radiosity.
Chapter 12: Creating an Animation.
Chapter 13: Understanding Animation Files.
Chapter 14: Using Photoshop with VIZ.
Chapter 15: Combining Photographs with VIZ Designs.
Chapter 16: Using AutoCAD with VIZ.
Appendix A: Installation Notes.
Appendix B: Modifiers and Materials.
Appendix C: Patches and NURBS Surfaces.
Appendix D: Helpers and Effects.
Index.
Chapter
Page
Details
Date
Print Run
Combined Errata,

Page 4

Point #2, feet and inches throughout book,
The Inches radio button should be used. There
may be some later exercises that require the Feet setting to be used.