Mastering Apache Velocity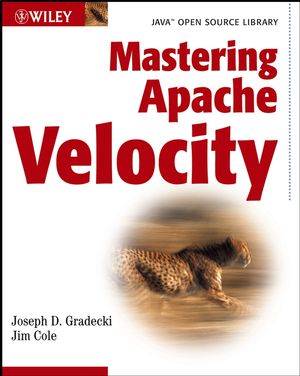 Mastering Apache Velocity
ISBN: 978-0-471-45794-7
Jul 2003
372 pages
Product not available for purchase
Description
A comprehensive tutorial on how to use the power of Velocity 1.3 to build Web sites and generate content

Designed to work hand-in-hand with Apache Turbine, Struts, and servlets, Velocity is a powerful template language that greatly enhances the developer's ability to customize Web sites. It separates Java code from the Web pages, making a site more maintainable. Because of this, it is a viable alternative to JSPs and PHP and is expected to become the standard template engine. In addition to its use with Struts and Turbine, Velocity can also be used to generate Java and XML source code, XML schemas, HTML templates, and SQL code.

Even with all its promise, finding expert instructions on how to properly program with this language has been difficult. This code-intensive tutorial gives you all the tools you'll need.

It begins by quickly bringing you up to speed on all of the Velocity fundamentals and the Velocity Template Language. You'll then learn how to apply Velocity in a variety of areas with the help of richly detailed code examples. Additionally, you'll be taken through the steps of building a complete application in order to see how you can utilize all of the techniques and technologies discussed in the book. Covering the latest features of Velocity 1.3, Mastering Apache Velocity shows you how to:
* Build Java-based Web sites with Struts, servlets, Turbine, and other open-source tools
* Generate a wide variety of Web content and code, including Java, XML, SQL, and Postgres
About the Authors.
Introduction.
Part I: Introduction to Velocity and MVC.
Chapter 1: Web Development Basics.
Chapter 2: MVC Fundamentals.
Chapter 3: Introduction to Velocity.
Part II: Velocity Basics.
Chapter 4: Installing Velocity.
Chapter 5: Building a Hello World Example.
Chapter 6: Understanding Templates and Context.
Chapter 7: Exploring References.
Chapter 8: Using Directives.
Chapter 9: Introducing Velocimacros.
Chapter 10: Taking Control of Velocity.
Part III: Developing with Velocity.
Chapter 11: Velocity, XML, and Anakia.
Chapter 12: Using Velocity with Servlets.
Chapter 13: Velocity and Internationalization.
Chapter 14: Using Velocity and Turbine.
Chapter 15: Using Velocity and Maverick.
Chapter 16: Velocity IDEs.
Chapter 17: Using Velocity and Struts.
Chapter 18: The Hotel Reservation Velocity Application.
Chapter 19: Using JSP and Velocity.
Chapter 20: DVSL and Velocity.
Part IV: References.
Appendix A: The Velocity Specification.
Appendix B: Velocity Sites.
Index.