Mastering AutoCAD 2002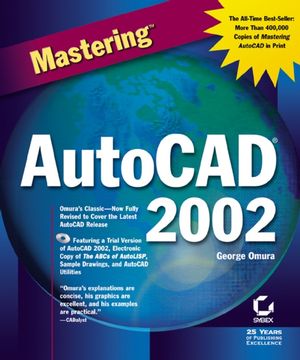 Mastering AutoCAD 2002
ISBN: 978-0-782-14015-6
Oct 2001
1352 pages
Product not available for purchase
Description
The Classic AutoCAD Authority--and Still the Ultimate AutoCAD Authority

Mastering AutoCAD 2002, the fully updated edition of Omura's classic, continues to be your one-stop authority on the latest release of AutoCAD. If you're new to this powerful design tool, you'll get started using AutoCAD right away thanks to the tutorial approach and step-by-step instruction. If you're an experienced user, you'll benefit from in-depth explanations of AutoCAD's newest and most advanced features, including database connectivity, support for splines and polylines, and 3D modeling and rendering. No matter what your experience level or how you use AutoCAD, this is an indispensable resource that you'll keep on your desk and refer to again and again.

Coverage includes:
* Finding your way around the AutoCAD interface
* Creating and developing an AutoCAD drawing
* Managing your drawing projects
* Controlling your drawings' printed output
* Improving your efficiency and precision
* Aligning points with existing elements
* Previewing your drawings using WYSIWYG plotting
* Discovering hidden or hard-to-find features
* Working with multiple documents
* Mastering the 3D modeling and rendering process
* Customizing AutoCAD
* Collaborating with others on large AutoCAD projects
* Taking advantage of AutoCAD's Internet features
* Linking drawings to databases and spreadsheets
* Combining tools to accomplish complex tasks
Introduction.
Part 1: The Basics.
Chapter 1: This Is AutoCAD.
Chapter 2: Creating Your First Drawing.
Chapter 3: Learning the Tools of the Trade.
Chapter 4: Organizing Your Work.
Part 2: Building on the Basics.
Chapter 5: Editing for Productivity.
Chapter 6: Enhancing Your Drawing Skills.
Chapter 7: Printing and Plotting.
Chapter 8: Adding Text to Drawings.
Chapter 9: Using Dimensions.
Part 3: Becoming an Expert.
Chapter 10: Storing and Linking Data with Graphics.
Chapter 11: Working with Paper Drawings and Raster Images.
Chapter 12: Advanced Editing Methods.
Chapter 13: Drawing Curves and Solid Fills.
Chapter 14: Getting and Exchanging Data from Drawings.
Part 4: Modeling and Imaging in 3D.
Chapter 15: Introducing 3D.
Chapter 16: Using Advanced 3D Features.
Chapter 17: 3D Rendering in AutoCAD.
Chapter 18: Mastering 3D Solids.
Part 5: Customization and Integration.
Chapter 19: Introduction to Customization.
Chapter 20: Sharing Drawings over the Internet.
Chapter 21: Managing and Sharing Your Drawings.
Appendix A: Hardware and Software Tips.
Appendix B: Installing and Setting Up AutoCAD.
Index.
Download GridMaker and Census data
Download a .zip file with the exercizes from the book.
To uncompress the file, Windows users can use Windows built-in ZIP utilities or a 3rd party utility like WinZip or WinRAR. Macintosh users can simply double-click the downloaded file to extract using the built-in archive utility.
Download