Mastering AutoCAD 2004 and AutoCAD LT 2004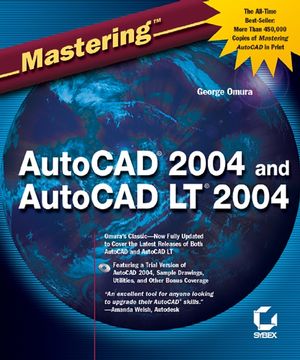 Mastering AutoCAD 2004 and AutoCAD LT 2004
ISBN: 978-0-782-14188-7
Jun 2003
1200 pages
Product not available for purchase
Description
AutoCAD is the industry-leading CAD software. The latest release will include a new Tools palette, full true-color support, graphic enhancements such as gradient fills, digital signatures, improved Xref management tools, and the return of Express Tools. This book works as both a tutorial and a stand-alone reference book. It features comprehensive coverage of both AutoCAD and AutoCAD LT.
Introduction.
Part 1: The Basics.
Chapter 1: This Is AutoCAD.
Chapter 2: Creating Your First Drawing.
Chapter 3: Learning the Tools of the Trade.
Chapter 4: Organizing Your Work.
Part 2: Building on the Basics.
Chapter 5: Editing for Productivity.
Chapter 6: Enhancing Your Drawing Skills.
Chapter 7: Printing, Plotting, and Layouts.
Chapter 8: Adding Text to Drawings.
Chapter 9: Using Dimensions.
Part 3: Becoming an Expert.
Chapter 10: Attributes?Storing Data with Graphics.
Chapter 11: Working with External Databases.
Chapter 12: Copying Pre-existing Drawings into AutoCAD.
Chapter 13: Power Editing.
Chapter 14: Drawing Curves and Solid Fills.
Chapter 15: Getting and Exchanging Data from Drawings.
Part 4: 3D Modeling and Imaging.
Chapter 16: Introducing 3D.
Chapter 17: Using Advanced 3D Features.
Chapter 18: Rendering and Animating 3D Drawings.
Chapter 19: Mastering 3D Solids.
Part 5: Customization and Integration.
Chapter 20: Introduction to Customization.
Chapter 21: Integrating AutoCAD into Your Projects and Organization.
Chapter 22: Managing and Sharing Your Drawings.
Appendices.
Appendix A: What?s on the Companion CD?.
Appendix B: Installing and Setting Up AutoCAD.
Appendix C: Hardware and Software Tips.
Appendix D: System and Dimension Variables.
Index.
Chapter
Page
Details
Date
Print Run
Combined Errata


Page FAQ

AEC door tool will reset the osnaps -
Author response: Yes, the AEC door tool will reset the osnaps. I can send a revised version that will not reset the osnaps. I need to know if the reader is using metric or feet/inch.

The replacement file can be found in the Downloads section.
---------------------------------------------------
Reader Response:
I am using feet/inch.
---------------------------------------------------
Reader Response:
This replacement file only addresses half the problem. When installed it is correct that it does not reset my osnaps for the program at large anymore. However it does not retain those osnaps for use with the door tool, leaving you only with "nearest" while using the tool. If upon selecting the tool I set the osnap settings to my preference, by the 3rd right click while inserting the door the osnaps have returned to "nearest". The implication is every time you insert a door you must reset the osnaps twice if you want to snap to intersections or midpoints for example. The good news is once I finish inserting the door and move onto another tool my original osnaps do return.
-------------------------------------------------
Author Response:
Yes, the Door function intentionally reverts to the Nearest osnap. This
is done to for at least one osnap while selecting points. If the osnap
is not used, the door may be inserted with errors. Sometimes the errors
are not apparent but can cause problems later. The user can use the
Shift-Right click and select a different osnap during the door function.
Really, the user only need to use the Intersection or Endpoint osnap at the first point
selection prompt. The other two can be left to the Door function.


---