Mastering AutoCAD Civil 3D 2009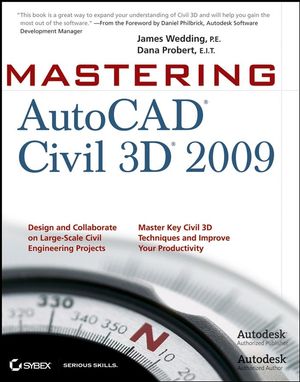 Mastering AutoCAD Civil 3D 2009
ISBN: 978-0-470-37315-6
Sep 2008
864 pages
Product not available for purchase
Description
If you already possess some background in Civil 3D but want to broaden your understanding of this popular civil engineering software, Mastering AutoCAD Civil 3D 2009 will provide you with detailed coverage of advanced topics like surveying, LandXML and LDT Project Transfer, cross-sections, pipe networks, visualization, project management, and data shortcuts. Many of the featured topics and techniques, directly applicable to the civil engineering profession, are previously undocumented. Practical tutorials, tips, tricks, real-world examples and easy-to-follow explanations detail all aspects of a civil engineering project.



For Instructors: Teaching supplements are available for this title.
Introduction.
Chapter 1: Getting Dirty: The Basics of Civil 3D.
Chapter 2: Took Long Enough: Lines and Curves.
Chapter 3: Lay of the Land: Survey.
Chapter 4: X Marks the Spot: Points.
Chapter 5: The Ground Up: Surfaces in Civil 3D.
Chapter 6: Don't Fence Me In: Parcels.
Chapter 7: Laying a Path: Alignments.
Chapter 8: Cut to the Chase: Profiles.
Chapter 9: Slice and Dice: Profile Views in Civil 3D.
Chapter 10: Templates Plus: Assemblies and Subassemblies.
Chapter 11: Easy Does It: Basic Corridors.
Chapter 12: The Road Ahead: Advanced Corridors.
Chapter 13: Stacking Up: Cross Sections.
Chapter 14: The Tool Chest: Parts Lists and Part Builder.
Chapter 15: Running Downhill: Pipe Networks.
Chapter 16: Working the Land: Grading.
Chapter 17: Sharing the Model: Data Shortcuts.
Chapter 18: Behind the Scenes: Autodesk Data Management Server.
Chapter 19: Teamwork: Vault Client and Civil 3D.
Chapter 20: Out the Door: Plan Production.
Chapter 21: Playing Nice with Others: LDT and LandXML.
Chapter 22: Get The Picture: Visualization.
Appendix A: The Bottom Line.
Appendix B: Other Resources.
Blogs.
Websites.Index.
Chapter
Page
Details
Date
Print Run
Foreword by Daniel Philbrick, Autodesk Software Development Manager
Daniel Philbrick's Foreword was inadvertently left out of the first printing of the book. You can download it from the Downloads tab.

---