Mastering Autodesk® Revit® MEP 2011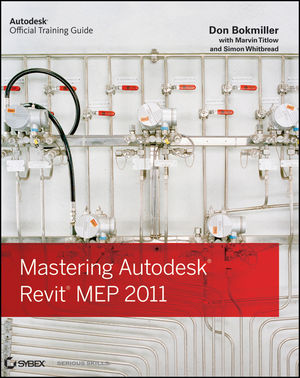 Description
Master all the core concepts and functionality of Revit MEP
Revit MEP has finally come into its own, and this perfectly paced reference covers all the core concepts and functionality of this fast-growing mechanical, electrical, and plumbing software. The authors collate all their years of experience to develop this exhaustive tutorial that shows you how to design using a versatile model.
You'll discover tips, tricks, and real-world exercises that only authors who use the software daily in a professional environment can know and explain.
Explores the basics of the interface, how to create and use project templates, how to generate schedules that show quantities, materials, design dependencies, and more
Examines the mechanical side of Revit MEP, including chapters on creating logical air, water, and fire protection systems and evaluating building loads
Delves into how to best generate and model content, including solid modeling, creating symbols, using parameters, creating equipment, and more
Featuring real-world sidebars, hands-on tutorials, and a supporting Web site, this reference allows you to jump into any tutorial and compare your finished work to the pros.
Introduction.
Part 1: General Project Setup.
Chapter 1: Exploring the User Interface.
Chapter 2: Creating an Effective Project Template.
Chapter 3: Worksets and Worksharing.
Chapter 4: Best Practices for Sharing Projects with Consultants.
Chapter 5: Schedules.
Chapter 6: Details.
Chapter 7: Sheets.
Part 2: Revit MEP for Mechanical.
Chapter 8: Creating Logical Systems.
Chapter 9: HVAC Cooling and Heating Load Analysis.
Chapter 10: Mechanical Systems and Ductwork.
Chapter 11: Mechanical Piping.
Part 3: Revit MEP for Electrical.
Chapter 12: Lighting.
Chapter 13: Power and Communications.
Chapter 14: Circuiting and Panels.
Part 4: Revit MEP for Plumbing.
Chapter 15: Plumbing (Domestic, Sanitary, and Other Piping).
Chapter 16: Fire Protection.
Part 5: Managing Content in Revit MEP.
Chapter 17: Solid Modeling.
Chapter 18: Creating Symbols and Annotation.
Chapter 19: Parameters.
Chapter 20: Creating Equipment.
Chapter 21: Creating Lighting Fixtures.
Chapter 22: Creating Devices.
Appendix: The Bottom Line.
Index.
Chapter
Page
Details
Date
Print Run
various
Issues related to the Properties Palette and Instance Parameters
Throughout this book you will read about the placement and creation of face-hosted, or face-based families. The addition of the Properties Palette to Revit MEP 2011 has caused a change in the way some Instance parameters are handled when placing component families into a model. This issue was discovered after the final editing of this book.

The problem that occurs is that default values for Instance parameters within families are not honored when the families are placed into a model. The most common example is the Default Elevation parameter, which exists in all face based families. This parameter allows you to assign an elevation for a component when it is placed on a vertical face. However, the placement of a face-based family will have a value of 0? 0? for the Default Elevation regardless of the value assigned in the family.

This behavior can vary between families and projects so the user should be wary of this and take note of the Properties box when placing elements. The following behaviors have been recorded:



When placing an element that is preloaded in your project template, Default Elevation is set to 0? 0?, even though family default is another value.
When loading an electrical element into a new project based on a Mechanical template, Default Elevation is correct.
When loading an electrical element into new project based on an Electrical template, Default Elevation is incorrect.
When loading an element into an upgraded (from 2010) project, Default Elevation is correct.

The Properties Palette gives you the opportunity to set the parameter value prior to placement of the family, but it will not use the value defined in the family itself on the first placement. Should the family have more than one type, selecting a different type can then display the correct default value. If you set a value for an Instance parameter in the Properties Palette during the placement of an object, Revit will remember that value for the next placement of families within the same category. Autodesk has realized that having to assign the elevation with each placement of a family is not the desired behavior and is working to resolve the issue.
10/6/10
1st

---