Mastering Autodesk Inventor 2009 and Autodesk Inventor LT 2009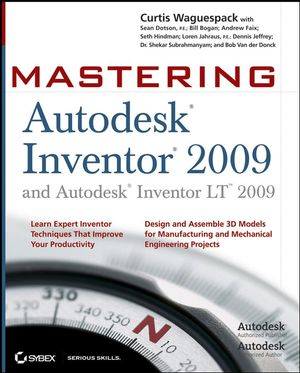 Mastering Autodesk Inventor 2009 and Autodesk Inventor LT 2009
ISBN: 978-0-470-29314-0
Oct 2008
600 pages
Product not available for purchase
Description
The expert content in Mastering Autodesk® Inventor 2009 and Autodesk InventorLT 2009 will help you learn advanced related to the industry-leading 3D mechanical design software.  Coverage of subjects like design tactics for large assemblies, effective model design for different industries, strategies for effective data and asset sharing across teams, using 2D and 3D data from other CAD systems, and improving designs is through and comprehensive.  With straightforward explanations, real-world examples, practical tutorials, tips, tricks, and techniques, this book will be your go-to guide to Autodesk Inventor.
Introduction.
Chapter 1: Inventor Design Philosophy.
Chapter 2: Data and Projects.
Chapter 3: Sketch Techniques.
Chapter 4: Basic Modeling Techniques.
Chapter 5: Advanced Modeling Techniques.
Chapter 6: Sheet Metal.
Chapter 7: Part and Feature Reuse.
Chapter 8: Assembly Design Workflows.
Chapter 9: Large Assembly Strategies.
Chapter 10: Weldment Design.
Chapter 11: Functional Design.
Chapter 12: Documentation.
Chapter 13: Inventor Tools Overview.
Chapter 14: Exchanging Data with Other Systems.
Chapter 15: Frame Generator.
Chapter 16: Inventor Studio.
Appendix A: The Bottom Line.
Index