Mastering Autodesk Revit Architecture 2012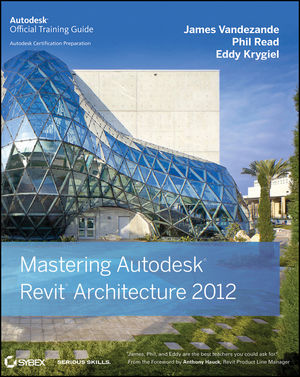 Mastering Autodesk Revit Architecture 2012
ISBN: 978-0-470-44343-9
May 2011
1136 pages
Product not available for purchase
Description
Complete and thorough update to this Autodesk Official Training Guide!
With pages of focused discussions, detailed exercises, in-depth coverage, and compelling examples, this comprehensive guide shows you how to implement and use Revit Architecture with spectacular results. You?ll learn how use the interface, how to create fantastic building designs with Revit, how to produce solid documentation?even how to go direct to fabrication with Revit. An Autodesk Official Training Guide, this thorough reference and tutorial also helps you prepare for Autodesk's Certified Associate and Certified Professional exams. 
Gets you quickly productive with Revit Architecture?s features and functions
Shows you how to document, detail, annotate, and present your designs
Helps you improve workflows with worksharing and collaboration
Prepares you for the Revit Architecture 2011 Certified Associate and Certified Professional Exams
Gives contractors the essentials of modeling
Explores using Revit for film and stage
Mastering Autodesk Revit Architecture is the ultimate real-world reference on this exciting software.
Foreword.
Introduction.
Part 1:Fundamentals.
Chapter 1: Introduction: The Basics of BIM.
Chapter 2: Principles of Revit.
Chapter 3: The Basics of the Revit Toolbox.
Part 2:The Revit Workflow.
Chapter 4: Configuring Templates and Standards.
Chapter 5: Managing a Revit Project.
Chapter 6: Understanding Worksharing.
Chapter 7: Working with Consultants.
Chapter 8: Interoperability: Working Multiplatform.
Part 3:Modeling and Massing for Design.
Chapter 9: Advanced Modeling and Massing.
Chapter 10: Conceptual Design and Sustainability.
Chapter 11: Designing with Design Options and Groups.
Chapter 12: Visualization.
Part 4:Extended Modeling Techniques.
Chapter 13: Walls and Curtain Walls.
Chapter 14: Floors, Ceilings, and Roofs.
Chapter 15: Family Editor.
Chapter 16: Stairs and Railings.
Part 5:Documentation.
Chapter 17: Detailing Your Design.
Chapter 18: Documenting Your Design.
Chapter 19: Annotating Your Design.
Chapter 20: Presenting Your Design.
Part 6:Construction and Beyond.
Chapter 21: Making Projects Parametric.
Chapter 22: Revit in Construction.
Chapter 23: Revit in the Classroom.
Chapter 24: Revit and Virtualization.
Chapter 25: Getting Acquainted with the Revit API.
Chapter 26: Revit for Film and Stage.
Appendices.
Appendix A: The Bottom Line.
Appendix B: Tips, Tricks, and Troubleshooting.
Appendix C: Revit Certification.
Index.