Mastering Autodesk VIZ 2007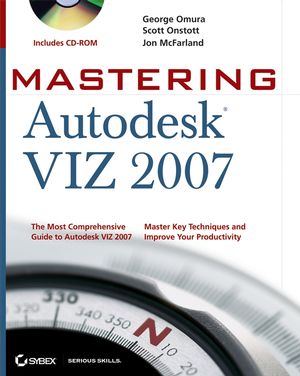 Mastering Autodesk VIZ 2007
ISBN: 978-0-470-11270-0
Oct 2006
960 pages
Product not available for purchase
Description
Turn Your Ideas Into High-Impact 3D Models and Animations


Transform flat drawings and concepts into impressive 3D visualizations that will amaze your clients with the comprehensive instruction you'll find in Mastering Autodesk VIZ 2007. Written by VIZ experts, this book shows you how to get the most out of the latest version of Autodesk's powerful 3D design, modeling, and animation tool with an in-depth, tutorial-based approach grounded in real-world examples.

This new edition has been fully updated and revised to cover all of Autodesk VIZ 2007's new features--asset tracking, revamped Xrefs, an updated interface, and the improved rendering and editing tools--and it's packed with professional techniques you can apply immediately to your own work for striking results. Whether you're new to VIZ or simply want to master the latest features, this book offers the clear explanations and step-by-step instructions you need to create, animate, and render realistic architectural visualizations with VIZ 2007.

Coverage includes:
* Creating complex shapes with surface modeling tools
* Using, organizing, and editing objects and meshes
* Efficiently managing design data
* Adding natural lighting effects
* Staging a virtual walk-through of your room designs for clients
* Applying radiosity to create lifelike views
* Employing mental ray to achieve high-res rendering
* Using AutoCAD and Photoshop(r) with VIZ
* Exporting content to the Web

Featured on the CD
You'll find a trial version of VIZ 2007 plus project files for all of the book's exercises.

Master VIZ 2007's great new features, including asset tracking, scene states, new modeling and texturing enhancements, batch rendering, and improved interoperability with other Autodesk products.

Create 3D models quickly and intuitively using the new edit poly tools and Sweep modifier.

Work effectively with lights, materials, and cameras.

Animate your models and create interactive views.

George Omura was cited as favorite CAD author by members of the Autodesk User Group International (AUGI) in AUGIWorld magazine's ""Best of Everything CAD"" issue, November/December 2003.

www.sybex.com
Introduction.
Chapter 1: Getting to Know VIZ.
Chapter 2: Introducing VIZ Objects.
Chapter 3: Creating Shapes with Splines.
Chapter 4: Editing Meshes and Creating Complex Objects.
Chapter 5: Creating AEC and Entourage Objects.
Chapter 6: Organizing and Editing Objects.
Chapter 7: Light and Shadow.
Chapter 8: Enhancing Models with Materials.
Chapter 9: Staging Your Design.
Chapter 10: Working with Files.
Chapter 11: Using Radiosity.
Chapter 12: Using mental ray.
Chapter 13: Understanding Animation.
Chapter 14: Creating Animations.
Chapter 15: Using Photoshop with VIZ.
Chapter 16: Combining Photographs with VIZ Designs.
Chapter 17: Using AutoCAD-Based Applications with VIZ.
Chapter 18: Exporting to the Web.
Appendix A: Installation Notes.
Appendix B: Modifiers and Materials.
Appendix C: Patches and NURBS Surfaces.
Appendix D: Helpers and Effects.
Index.
Mastering Autodesk VIZ is the only complete guide to Autodesk's 3D modeling, animation, and rendering software, which is being used worldwide for architectural visualizations.

Written by an award-winning Autodesk Authorized author and published by an Autodesk Authorized Publisher.

This revision is fully updated to cover all of VIZ's new features and interface improvements.

A complete set of instructor materials—syllabi, test questions, PowerPoint, image files, and additional learning suggestions is available for this title.
The CD includes a trial version of VIZ, project files, and the DWF viewer.