Mastering Digital Photography and Imaging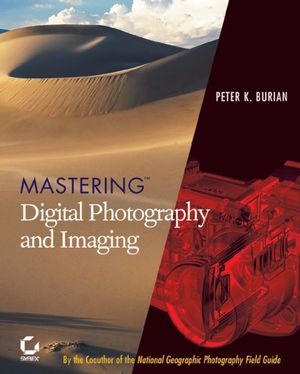 Mastering Digital Photography and Imaging
ISBN: 978-0-782-14290-7
Mar 2004
272 pages
Product not available for purchase
Description
"A must-read for those who want to enhance their digital photography experience."
—George Schaub, Editorial Director, Shutterbug and eDigitalPhoto magazines

With a three or more megapixel digital camera or a good scanner, affordable image-editing software, and a photo-realistic printer, you have all the tools you need to create absolutely stunning images. But understanding all your options and getting the best possible results can be daunting. What features should you look for in a digital camera? What accessories do you need? How do you capture the best possible images with your digital equipment--and make corrections when you don't? What are the advantages of RAW capture? How can you get consistently great prints?

Peter K. Burian, coauthor of the best-selling National Geographic Photography Field Guide, has taken the digital plunge and lived to write about it. The result is a practical, accessible guide that demystifies the world of digital photography and imaging--a must-read whether you're a photography enthusiast making the leap to digital, a gadget lover looking for the latest technology, a novice photographer, or anybody who regularly works with images.

Inside you'll find:
A buyer's guide to the essential equipment and software: learn the pros and cons of compact digicams versus digital SLR cameras; choose a suitable scanner; find the right imaging program for your needs; select the perfect photo printer
Focusing, composition, and lighting tips for making snapshots that you'll be proud of
Pro tips and techniques for using all your camera's advanced features
Techniques for getting scans of exceptional quality, whether you're scanning prints, slides, or negatives
Recommendations on upgrading your computer and peripherals for digital imaging
Professional methods for fine-tuning your images in the digital darkroom
Techniques for creating color or black-and-white prints of exhibition quality
Tips on optimizing your images for use in e-mail, online albums, and web pages
Part 1: Essential Digital Imaging Equipment.
Chapter 1: Introduction to Digital Cameras.
Chapter 2: Introduction to Scanners.
Chapter 3: Computer Setups for Digital Imaging.
Chapter 4: Software for the Digital Darkroom.
Chapter 5: Choosing a Photo Printer.
Part 2: Capture.
Chapter 6: Making Digital Images.
Chapter 7: Picture-Taking Tips.
Chapter 8: Scanning Techniques.
Part 3: Optimizing Images.
Chapter 9: Color Management Demystified.
Chapter 10: Introduction to Image Editing.
Chapter 11: Advanced Image Editing.
Chapter 12: Images and the Internet.
Chapter 13: Making Exhibition-Quality Prints.
Appendix.
Glossary.
Index.
Chapter
Page
Details
Date
Print Run
Combined Errata


Page 5

Figure 1.2 caption. Currently says "...1 to 6 megapixels." Should say, "...1 to 8 megapixels."

Page 11

The last line of the Note in the middle of the page says "but for a 4, 5, or 6 megapixel camera". Please replace that phrase with "but for a camera with higher resolution capability,"

Page 12

Fourth bulleted item should read: "Models with a resolution over 5 megapixels cost $500 and up.

Page 16

Para 3, Sentence 1, please replace "Still rare in compact cameras, Continuous Autofocus mode allows" with "An increasing number of compact cameras include a Continuous Autofocus mode, which allows"

Page 23

Recommendation sidebar title is incorrect. Should read "Recommendation: Most Important Digital SLR Camera Features" not "..Most Important SLR Digicam Features"

Page 27

4th full paragraph, Sentence 3 says "They cost $1000 and up." Please change to "They cost $500 and up."

Page 28

Caption for Fig. 2.4: parenthetical says "($1000+)". Please change to "($500+)

Page 29

Recommendation sidebar, 3rd Paragraph, line 2 says "2700 dpi to 2900 dpi resolution ($500+)" Please change the parenthetical to "($300+)".

Recommendation sidebar, last line says "($750+)". Please change parenthetical to "($500+)"

Page 107

Fig. 6.16 caption says "1/4 sec." Should say "4 sec.".

Page 138

Item 6, line 3 says, "...adjust the preview image until it looks just right in the Preview image. Please just delete everything after "right" and add a period: "...adjust the preview image until it looks just right."

Page 141

Second-to-last paragraph on the page, line 4 mentions a price of "$229". Should be "$179". Same para, line 7 says "$500", should be $300+

Page 144

Item 5 says, "...such as Digital ICE or FARE," Should be "...such as Digital ICE or Auto Dust Brush,"

Page 154

7th paragraph, 4th line, change "for $169" to "for $119 and up."

Page 157

2nd paragraph, 2nd line, change "less than $170" to "$119 (ColorVision Inc.'s ColorPlus)"

Page 200

Title for last section should be revised to Using the Shadow/Highlight Utility: Exercise 1

Page 215

Replace Figure 12.2 image with f1202r.tif.




---