Mastering Excel 2003 Programming with VBA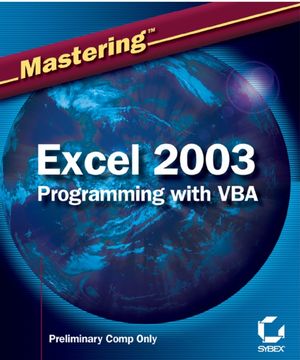 Mastering Excel 2003 Programming with VBA
ISBN: 978-0-782-15105-3
Feb 2006
608 pages
Product not available for purchase
Description
Create Powerful Business Applications with Excel 2003
Excel 2003 is an ideal application development platform for all levels of business needs. If you're an advanced Excel user looking to gain programming experience, or a skilled developer new to Excel or the Excel Object Model, this no-nonsense book teaches you how to build custom applications that can generate substantial time and cost savings for you, your employer, and your customers.
Written by a professional with nearly a decade of experience producing Excel/VBA solutions, Mastering Excel 2003 Programming with VBA conveys the precise knowledge and techniques you need to be highly productive. You'll master the most critical Excel objects and development practices necessary to create a complete solution, including working with XML data, Smart Document technology, and database integration with ADO. And you can readily apply the practical advice and reusable code examples to your own projects.
In his friendly style, author Steven Hansen makes the information easy to grasp and entertaining to read, and he does not shy away from challenging material.
You'll learn all about:
Ramping up with VBA
Debugging tools and tactics that work
Mastering the Excel Object Model
Developing class modules
Customizing Excel UserForms
Integrating Excel with other applications
Incorporating text files in your solution
Coding solutions that leverage a database
Using XML in Excel
Designing user-friendly toolbars and menus
Building Excel 2003 Smart Documents
Deploying your solution
Introduction.
Part 1: Introduction to Excel Development.
Chapter 1: Excel as a Development Platform.
Chapter 2: Getting to Know Your Environment.
Chapter 3: Getting Started with VBA.
Chapter 4: Debugging Tactics that Work.
Part 2: Mastering the Excel Object Model.
Chapter 5: Exploring the Application Object.
Chapter 6: Working with the Workbook Object.
Chapter 7: Winning with Worksheets.
Chapter 8: The Most Important Object.
Chapter 9: Practical Range Operations.
Chapter 10: Exploring Other Excel Objects.
Part 3: Advanced Excel Programming Techniques.
Chapter 11: Developing Class Modules.
Chapter 12: Adding User Personalization to Your Application.
Chapter 13: Excel Development Best Practices.
Part 4: Working with External Data.
Chapter 14: Integrating with Other Applications.
Chapter 15: Incorporating Text Files in Your Solution.
Chapter 16: Dealing with Databases.
Chapter 17: XL(M) = XML.
Part 5: Enhancing the End User Experience.
Chapter 18: Basic User Interfaces.
Chapter 19: Taking Control of Command Bars.
Chapter 20: User Form Construction.
Chapter 21: One Smart Cookie: Smart Documents with Excel 2003.
Chapter 22: Application Deployment Strategies.
Index.