Mastering Global Corporate Governance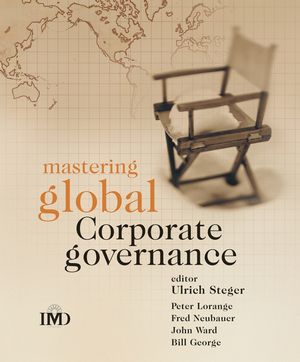 Mastering Global Corporate Governance
ISBN: 978-0-470-09041-1
Sep 2004
236 pages
Description
Corporate Governance is the hot topic of the new millennium. Gone are the days when CEOs set agendas and earned 500 times more than average employees. Now, transparency rules. Corporations must establish new systems of accountability, and encourage long-term participation in decision-making by both shareholders and staff. Those that succeed will be better equipped to create wealth, solve complex problems, and compete in global markets.
The role of the directorate and the need to ensure an effective framework for its accountability to owners is paramount to success. In line with this thinking, Mastering Global Corporate Governance argues that one of the key responsibilities of the Board is leadership, and that the root of good corporate governance lies in the strength of a corporate leader. In particular, it focuses on two 'burning issues' for senior executives: how can the boards of global companies best lead their companies through the fundamental dilemmas that face all boards?; and how can Boards, entrusted with ultimate responsibility for the way a company exercises leadership, provide that leadership?
Contributors.
Preface and Acknowledgements.
Introduction – A Roadmap for the Book.
PART I: GLOBAL CORPORATE GOVERNANCE– ISSUES, FRAMEWORK AND EVIDENCE FOR BOARD LEADERSHIP (Ulrich Steger).
Chapter 1. Now that Everything is in Place, Does it Matter?
Chapter 2. How can Corporate Governance Fail?
Chapter 3. Shedding Some Light into the Black Box.
Chapter 4. Managing Complexity in Global Corporate Governance.
Chapter 5. Some Nagging Questions.
PART II: THREE BURNING QUESTIONS FOR BOARDS.
Chapter 6. The Role and Responsibilities of the CEO (Peter Lorange).
Chapter 7. Performance Evaluation of Corporate Boards and Boards of Directors (Fred Neubauer and Helga Krapf).
Chapter 8. How Governing Family Businesses is Different (John Ward).
PART III: LEARNING FROM PAST EXPERIENCE.
Chapter 9. Cobra versus Commerzbank, War at the Helm of Elicore, and National Life (Commented by Bill George).
References.
Notes.
Index.
Showcases IMD's experience with and original research into corporate governance, focusing on companies that are multi-nationals

Provides theoretical and practical guidance for the creation of effective corporate governance institutions in global companies

Includes new case studies from Swiss Air, Daimler-Chrysler and Commerzbank, plus two real but disguised 'board conflict' cases