Mastering JBuilder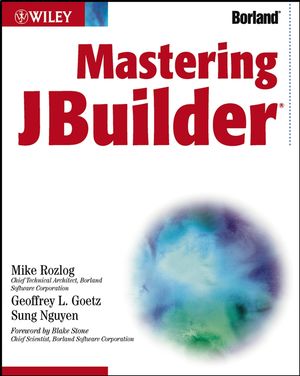 Mastering JBuilder
ISBN: 978-0-471-26714-0
Apr 2003
600 pages
Product not available for purchase
Description
Written by one of the lead architects of JBuilder, this authoritative book uncovers all of the power techniques that developers will need to know in order to build large-scale Java applications
Offers readers the most current information in the field, including in-depth coverage of JBuilder 8
Explores distributed applications development, RMI applications, and local and remote debugging
Illustrates how to develop, test, and deploy Enterprise JavaBeans (EJBs)
Companion Web site includes source code from the book and useful links with updated information
Foreword.
Acknowledgments.
Introduction.
Part 1: JBuilder as an Integrated Development Environment.
Chapter 1: Installing JBuilder.
Chapter 2: Customizing the AppBrowser.
Chapter 3: Controlling Java Configurations.
Chapter 4: Project Properties and Configurations.
Chapter 5: Debugging with JBuilder.
Chapter 6: Using the JBuilder Help System.
Part 2: JBuilder as a Rapid Application Development Tool.
Chapter 7: Creating Classes.
Chapter 8: Modifying Classes.
Part 3: JBuilder and Application Lifecycle Management.
Chapter 9: Integrated Team Development.
Chapter 10: Using Build Systems.
Chapter 11: Unit Testing with Junit.
Chapter 12: UML Visualization.
Part 4: Two-Tier Client/Server Development with JDBC.
Chapter 13: Building the Database with JDataStore.
Chapter 14: DataExpress and DBSwing Applications.
Part 5: Web Development with Servlets, Java Server Pages, and Struts.
Chapter 15: Server and Service Configuration.
Chapter 16: Web Enablement with Servlets.
Chapter 17: Moving from Basic Servlets to Java Server Pages.
Chapter 18: Developing with Struts.
Part 6: Enterprise Development with Enterprise JavaBeans.
Chapter 19: Developing EJB 1.1.
Chapter 20: Developing EJB 2.x.
Part 7: Distributed Computing with RMI, CORBA and Web Services.
Chapter 21: RMI Development with JBuilder.
Chapter 22: CORBA Development with JBuilder.
Chapter 23: Web Services Development with JBuilder.
Index.