Mastering JXTA: Building Java Peer-to-Peer Applications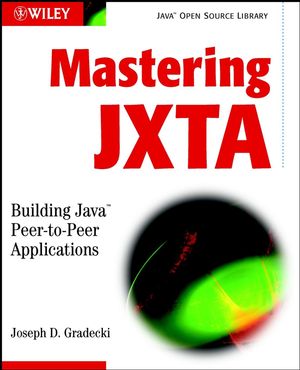 Mastering JXTA: Building Java Peer-to-Peer Applications
ISBN: 978-0-471-25084-5
Sep 2002
528 pages
Product not available for purchase
Description
A comprehensive, code-intensive guide to building commercial-quality peer-to-peer applications with JXTA and Java
Tens of millions of people use peer-to-peer (P2P) applications such as KaZaA, AOL Instant Messenger, and Distributed.net. These applications harness the idle CPU cycles of their host computers to produce enormous databases of information, build powerful processing engines, and enable communication and file-sharing among users around the world. Previously, P2P applications have been built using proprietary technologies and protocols, forcing developers to start from scratch each time they write a new application. Now JXTA, an open source, P2P development technology, enables developers to build P2P applications using Java, XML, and other industry standards.
With this invaluable book, Joseph Gradecki provides a practical guide to building peer-to-peer applications using Java. He provides detailed descriptions of the JXTA technologies and demonstrates how to build real-world applications. This book also includes:
* Detailed descriptions of the JXTA specification and the Java reference implementation
* The complete P2P development process, including how to build reusable application frameworks
* Fully functional example applications, including a distributed computational engine that can utilize the idle CPU power of thousands of remote machines to solve complex problems, and a fault-tolerant, encrypted network storage system
The companion Web site includes:
* All the code listings and complete applications from the book
* Links to additional JXTA and P2P resources
Acknowledgments.

About the Author.

Introduction.

PART I: JXTA OVERVIEW.

Introduction to Peer-to-Peer.

An Overview of JXTA.

JXTA Shell.

Using myJXTA.

JXTA Advertisements.

PART II: JXTA PROTOCOLS.

Peer Discovery Protocol.

Peer Resolver Protocol.

Peer Information Protocol.

Peer Endpoint Protocol.

Pipe Binding Protocol.

Rendezvous Protocol.

Developing a JXTA Application.

JXTA Pipes.

PART III: JXTA IMPLEMENTATION.

Content Sharing and the Content Management Service (CMS).

Implementing Security.

Peer Monitoring and Metering.

Configuring NAT and Firewall Peers.

Using Endpoints for Low-level Communication.

Building a Generic Framework for Distributed Computing.

Building an Encrypted, High-Availability Storage System.

PART IV: JXTA REFERENCE.

Appendix A: Installing JXTA and Compiling JXTA Applications.

Appendix B: JXTA API.

Appendix C: Current Add-On JXTA Services.

Appendix D: Latest JXTA Projects.

Appendix E: JXTA Resources.

Appendix F: JXTA Bindings.

Appendix G: Other Peer-to-Peer Implementations and Toolkits.

Index.