Mastering Jakarta Struts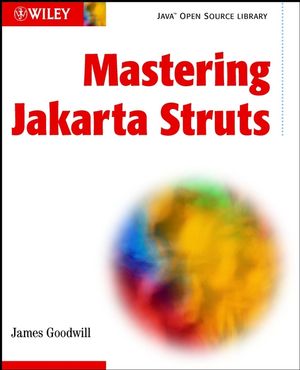 Mastering Jakarta Struts
ISBN: 978-0-471-44481-7 November 2002 352 Pages
Description
Jakarta Struts Project provides an open source framework for creating Web applications that leverage both the Java Servlets and JavaServer Pages technologies. Struts has received developer support and is quickly becoming a dominant actor in the open source community.
James Goodwill is a well-respected authority and bestselling author of books on Java Web applications
Provides a hands-on, code-intensive tutorial on building Java Web applications using the Jakarta Struts Framework
Companion Web site provides electronic versions of all code examples in the book
Acknowledgments.

About the Author.

Introduction.

PART I: JXTA OVERVIEW.

Chapter 1. Introducing the Jakarta Struts Project and Its Supporting Components.

Chapter 2. An Overview of the Java Servlet and JavaServer Pages Architectures.

Chapter 3. Getting Started with Struts.

PART II: CORE STRUTS.

Chapter 4. The Controller.

Chapter 5. The Views.

Chapter 6. Internationalizing Your Struts Applications.

Chapter 7. Managing Errors.

Chapter 8. Creating Custom ActionMappings.

Chapter 9. The Struts JDBC Connection Pool.

Chapter 10. Debugging Struts Applications.

Chapter 11. Developing a Complete Struts Application.

PART III: STRUTS REFERENCE.

Chapter 12. The struts-config.xml File.

Chapter 13. The Bean Tag Library.

Chapter 14. The HTML Tag Library.

Chapter 15. The Logic Tag Library.

Chapter 16. The Template Tag Library.

Index.
"...pleasantly written...guides you by the hand with small understandable and practical examples..." (CVu, Vol 16(4), August 2004)