Mastering JavaServerTM Faces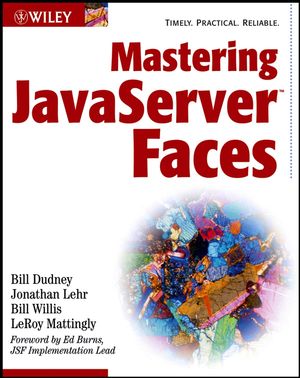 Description
Harness the power of JavaServer Faces to create your own server-side user interfaces for the Web

This innovative book arms you with the tools to utilize JavaServer Faces (JSF), a new standard that will make building user interfaces for J2EE(TM) applications a lot easier. The authors begin by painting the architectural big picture-covering everything from the Patterns that are used in the implementation to the typical JSF Request/Response lifecycle. Next, you'll learn how to use JSF in the real world by uncovering the various pieces of the JSF component model, such as UI components, events and validation. The authors then explain how to apply JSF, including how to integrate JSF user interfaces with the Business Tier and how to render your own user interface components. By following this approach, you'll be able to confidently create and validate your own custom applications that meet the needs of your company.

Whether working in J2EE or J2SE(TM), this book will show you how to:
* Use UI Components to build your user interface
* Ensure that the data you store meets the business rules for your application
* Integrate JSF with JSPs through the custom Tag feature in JSP implementations
* Build JSF applications that interact with either EJBs or POJOs
* Validate a new component and queue events to invoke custom application logic
* Move your application from Struts to JSF
Dedication.
Acknowledgments.
About the Authors.
Foreword.
Introduction.
Part 1: Architecture of JSF.
Chapter 1: JSF Patterns and Architecture.
Chapter 2: Elements of JSF.
Chapter 3: JSF Request-Processing Life Cycle.
Part 2: Elements of JSF.
Chapter 4: JSF Configuration.
Chapter 5: JSP Integration in JSF.
Chapter 6: UI Components.
Chapter 7: Navigation, Actions, and Listeners.
Chapter 8: Validation and Conversion.
Part 3: Applying JSF.
Chapter 9: Building JSF Applications.
Chapter 10: Custom JSF Components.
Chapter 11: Converting a Struts Application to JSF.
Appendix: What's on the Web Site.
References.
Index.
Companion Site
Welcome to the Mastering JavaServer Faces companion Web site.
This site provides source files for the reader to follow along with the book Mastering JavaServer Faces. To make it easier for download the files have been put into archives. If you do not have a archiving utility you may go to RarLabs.com to download a trial version of WinRAR.

The masterjsf file is available in zip or rar format on the download page.