Mastering Microsoft Exchange 2000 Server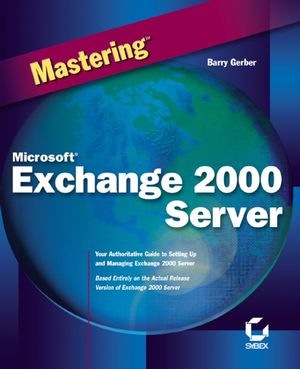 Mastering Microsoft Exchange 2000 Server
ISBN: 978-0-782-15287-6
Feb 2006
974 pages
Product not available for purchase
Description
Answers to All Your Questions About Exchange Server Messaging
Mastering Exchange Server 2000 is the one book that you need to put the latest version of Exchange Server to work in the way that makes the most sense for your organization. Whatever its size or specific needs, here you'll find the answers that will let you build and maintain a complete or partial messaging solution. Covering email, electronic forms, and much more, this all-in-one guide gives you step-by-step instructions for completing every task you'll encounter.
Coverage includes:
Installing and configuring Windows 2000 Server
Installing and configuring Exchange 2000 Server
Setting up SMTP, POP3, and IMAP4 mail servers and clients
Setting up Web browser access to Exchange e-mail and other folders
Setting up Lightweight Directory Access Protocol servers and clients
Setting up Network News Transport Protocol virtual servers and clients
Building and deploying online forms
Installing and configuring Outlook 2000
Setting up and managing simple Exchange Server environments
Setting up and managing Exchange servers across multiple administrative groups in the same or Windows 2000 domain
Setting up and managing Exchange organizations across multiple
Exchange 2000 Server domains
Introduction.
PART I: UNDERSTANDING AND PLANNING.
1. Introducing Exchange 2000 Server.
2. 2000: A Magic Number?.
3. Two Key Architectural Components of Windows 2000 Server.
4. Exchange 2000 Server Architecture.
5. Designing a New Exchange 2000 System.
6. Upgrading to Windows 2000 Server and Exchange 2000 Server.
PART II: INSTALLATION.
7. Installing Windows 2000 Server.
8. Installing Exchange 2000 Server.
PART III: THE OUTLOOK CLIENT.
9. Installing Outlook 2000 from a Customized Server Image.
10. A Quick Overview of Outlook 2000.
PART IV: BASIC EXCHANGE 2000 SERVER ADMINISTRATION.
11. Managing Exchange Users, Distribution Groups, and Contacts.
12. Managing the Exchange Server Hierarchy and Core Components.
PART V: EXPANDING AN EXCHANGE SERVER ORGANIZATION.
13. Managing Exchange 2000 Internet Services.
14. Managing Exchange 2000 Services for Internet Clients.
15. Installing and Managing Additional Exchange 2000 Servers.
16. Connecting to Other Foreign Messaging Systems.
PART VI: EXCHANGE AND OUTLOOK: THE NEXT LEVEL.
17. Advanced Exchange Server Management.
18. Building, Using, and Managing Outlook Forms Designer Applications.
APPENDIX.
A Cool Third-Party Applications for Exchange Server and Outlook Clients.
Index.