Mastering Microsoft Exchange Server 2003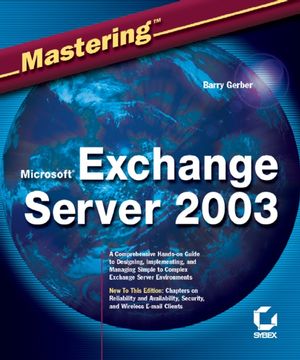 Mastering Microsoft Exchange Server 2003
ISBN: 978-0-782-15167-1
Feb 2006
832 pages
Product not available for purchase
Description
All the Documentation You Need for Successfully Deploying Exchange Server 2003
Author Barry Gerber shares his extensive real-world experience in easy-to-understand language in this comprehensive guide to Microsoft's messaging and collaboration server. Mastering Exchange Server 2003 systematically and sequentially walks you through all the essential concepts of planning and design, installation, deployment, administration and management, maintenance, and troubleshooting. With detailed background information, clear step-by-step, hands-on instructions, and realistic examples, Gerber teaches you how to devise and implement a system that is just right for your environment. He then leads you to the next level with advanced coverage on reliability and availability, disaster recovery, security solutions, wireless access, and building custom e-mail forms for Outlook.
Coverage Includes:
Designing a new Exchange 2003 system
Upgrading to Windows Server 2003 and Exchange Server 2003
Installing and configuring Exchange Server 2003, Windows Server 2003 as a domain controller, and Outlook 2003 from a customized server image
Organizing Exchange users, distribution groups, and contacts
Managing the Exchange Server hierarchy and core components
Managing Exchange 2003 Internet services and services for Internet clients
Installing and administrating additional Exchange Servers
Performing advanced administration and management
Ensuring Exchange Server reliability and availability
Building Exchange Server system security
Configuring wireless access to Exchange Server 2003
Creating and managing Outlook forms designer applications
Exploring third-party applications for Exchange/Outlook clients and Exchange Server
Introduction.
Part 1: Understanding and Planning.
Chapter 1: Introducing Exchange Server 2003.
Chapter 2: Windows Server 2003 and Exchange Server 2003.
Chapter 3: Two Key Architectural Components of Windows Server 2003.
Chapter 4: Exchange Server 2003 Architecture.
Chapter 5: Designing a New Exchange 2003 System.
Chapter 6: Upgrading to Windows Server 2003 and Exchange Server 2003.
Part 2: Installation.
Chapter 7: Installing Windows Server 2003 as a Domain Controller.
Chapter 8: Installing Exchange Server 2003.
Part 3: The Outlook Client.
Chapter 9: Installing Outlook 2003 from a Customized Server Image.
Chapter 10: A Quick Overview of Outlook 2003.
Part 4: Basic Exchange Server 2003 Management.
Chapter 11: Managing Exchange Users, Distribution Groups, and Contacts.
Chapter 12: Managing the Exchange Server Hierarchy and Core Components.
Part 5: Expanding an Exchange Server Organization.
Chapter 13: Managing Exchange 2003 Internet Services.
Chapter 14: Managing Exchange 2003 Services for Internet Clients.
Chapter 15: Installing and Managing Additional Exchange Servers.
Part 6: Exchange and Outlook: The Next Level.
Chapter 16: Advanced Exchange Server Administration and Management.
Chapter 17: Exchange Server Reliability and Availability.
Chapter 18: Exchange Server System Security.
Chapter 19: Wireless Access to Exchange Server 2003.
Chapter 20: Building, Using, and Managing Outlook Forms Designer Applications.
Appendix: Cool Third-Party Applications for Exchange Server and Outlook Clients.
Index.
Chapter
Page
Details
Date
Print Run
Combined Errata


Page 115

Last Warning at bottom of page is incorrect, should say Exchange 2000 will not run on Windows Server 2003 and therefore must be upgraded to Exchange 2003 before the Windows 2000 server is upgraded to Windows Server 2003. See Technet Article 810591 for more info.

Page 216

/"refreshpolicy" has been replaced by "gpupdate"-
Gpupdate Refreshes local and Active Directory-based Group Policy
settings, including security settings. This command supersedes the now
obsolete /refreshpolicy option for the secedit command.

Syntax
gpupdate [/target:{computer|user}] [/force] [/wait:value] [/logoff]
[/boot]

Parameters
/target:{computer|user}
Processes only the Computer settings or the current User settings. By
default, both the computer settings and the user settings are processed.

/force
Ignores all processing optimizations and reapplies all settings.
/wait:value
Number of seconds that policy processing waits to finish. The default is
600 seconds. 0 means "no wait"; -1 means "wait indefinitely."
/logoff
Logs off after the refresh has completed. This is required for those
Group Policy client-side extensions that do not process on a background
refresh cycle but that do process when the user logs on, such as user
Software Installation and Folder Redirection. This option has no effect
if there are no extensions called that require the user to log off.
/boot
Restarts the computer after the refresh has completed. This is required
for those Group Policy client-side extensions that do not process on a
background refresh cycle but that do process when the computer starts
up, such as computer Software Installation. This option has no effect if
there are no extensions called that require the computer to be
restarted.
/?
Displays help at the command prompt.
Remarks
If you make a syntax error, a syntax summary appears that looks similar
to this Help topic.
Examples
The following examples show how you can use the gpupdate command:

gpupdate

gpupdate /target:computer

gpupdate /force /wait:100

gpupdate /boot

Formatting legend
Format Meaning
Italic Information that the user must supply
Bold Elements that the user must type exactly as shown
Ellipsis (...) Parameter that can be repeated several times in a command
line
Between brackets ([]) Optional items
Between braces ({}); choices separated by pipe (|). Example: {even|odd}
Set of choices from which the user must choose only one
Courier font Code or program output

Related Topics


---