Mastering Revit® Architecture 2010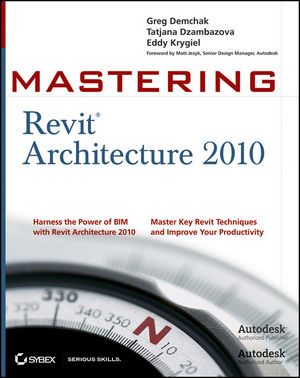 Description
As Autodesk's fastest-growing software package, Revit Architecture offers a new version that will require Revit users of all areas of expertise—architects, project managers, designers, contractors, and building owners—to learn new skills. As the only complete tutorial and reference for the newest version of Revit software, this book provides you with a hands-on look at the Revit interface, explores key modeling principles, looks at design options and features, and shows how to best present designs, and discusses proven workflows and best practices. The in-depth discussions, real-world examples, and detailed tutorials are drawn from the author's professional experience using the program.



For Instructors: Teaching supplements are available for this title.
Foreword.
Introduction.
Chapter 1: Understanding BIM: From the Basics to Advanced Realities.
Chapter 2: Revit Fundamentals.
Chapter 3: Know Your Editing Tools.
Chapter 4: Setting Up Your Templates and Office Standards.
Chapter 5: Customizing System Families and Project Settings in Your Template.
Chapter 6: Modeling Principles in Revit I.
Chapter 7: Modeling Principles in Revit II.
Chapter 8: Concept Massing Studies.
Chapter 9: From Conceptual Mass to a Real Building.
Chapter 10: Working with Design Options.
Chapter 11: Creating Custom 3D Content.
Chapter 12: Extended Modeling Techniques—Walls.
Chapter 13: Extended Modeling Techniques—Roofs and Floors.
Chapter 14: Extended Modeling Techniques—Railings and Fences.
Chapter 15: Presentation Techniques for Plans, Sections, and Elevations.
Chapter 16: Presenting Perspective Views.
Chapter 17: Fine-Tuning Your Preliminary Design.
Chapter 18: Evaluating Your Preliminary Design: Sustainability.
Chapter 19: Annotating Your Model.
Chapter 20: Developing the Design with SmartWorkflows.
Chapter 21: Moving from Design to Detailed Documentation.
Chapter 22: Advanced Detailing Techniques.
Chapter 23: Tracking Changes in Your Model.
Chapter 24: Worksharing.
Appendix A: The Bottom Line.
Appendix B: Tips and Troubleshooting.
Index.