Mastering Revit Structure 2010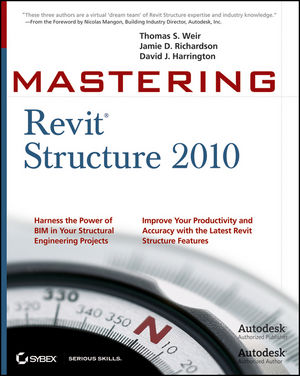 Mastering Revit Structure 2010
ISBN: 978-0-470-59526-8 December 2010 896 Pages
Description
Mastering Revit Structure 2010 covers both the basics and the advanced features and functions. Written by a team of authors who are deeply involved with the Revit community, Mastering Revit Structure 2010 explains the tools and functionality in the context of professional, real-world tasks and workflows. With hands-on tutorials to demonstrate the concepts, Mastering Revit Structure 2010 is perfect for anyone who needs to learn Revit Structure 2010 quickly and thoroughly. Additionally, there is a companion Web site offers before-and-after tutorial files for downloading.
Chapter 1: Inside Revit Structure.
Chapter 2: Setting the Project Environment.
Chapter 3: Starting to Model Your Project.
Chapter 4: Structural Columns.
Chapter 5: Floor Slabs and Roof Decks.
Chapter 6: Walls.
Chapter 7: Structural Framing.
Chapter 8: Foundations.
Chapter 9: Model Documentation.
Chapter 10: Modeling Rebar.
Chapter 11: Schedules and Quantities.
Chapter 12: Working with Sheets.
Chapter 13: Worksharing.
Chapter 14: Visualization.
Chapter 15: Revit Structural Analysis.
Chapter 16: Project Phases and Design Options.
Chapter 17: Standards: Increasing Revit Productivity.
Chapter 18: Family Creation: Beyond the Built-In Libraries.
Chapter 19: Advanced Structural Families.