Mastering VMware Infrastructure 3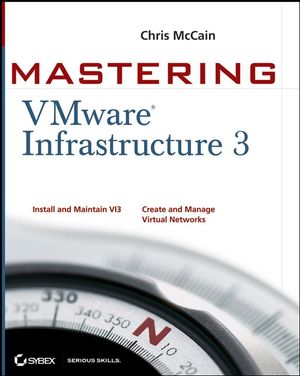 Mastering VMware Infrastructure 3
ISBN: 978-0-470-43246-4
Jun 2010
576 pages
Product not available for purchase
Description
Cut hardware costs, expand your capacity, and manage an entire fleet of virtual machines in your enterprise with the leading virtualization solution, VMware Infrastructure 3 (VI3), by applying the step-by-step instructions in Mastering VMware® Infrastructure 3. Packed with the technical details, best practices, and how-tos you need to install, configure, and run a virtual infrastructure at maximum efficiency, this guide is comprehensive and essential. Learn how to create and manage virtual networks and machines, configure every product in the VI3 suite, monitor resources and performance, maintain security, and much more.
Introduction.
Chapter 1: Introducing VMware Infrastructure 3.
Chapter 2: Planning and Installing ESX Server.
Chapter 3: Creating and Managing Virtual Networks.
Chapter 4: Creating and Managing Storage Devices.
Chapter 5: Installing and Configuring VirtualCenter 2.0.
Chapter 6: Creating and Managing Virtual Machines.
Chapter 7: Migrating and Importing Virtual Machines.
Chapter 8: Configuring and Managing Virtual Infrastructure Access Controls.
Chapter 9: Managing and Monitoring Resource Access.
Chapter 10: High Availability and Business Continuity.
Chapter 11: Monitoring Virtual Infrastructure Performance.
Chapter 12: Securing a Virtual Infrastructure.
Chapter 13: Configuring and Managing ESXi.
Appendix A: The Bottom Line.
Appendix B: Common Linux and ESX Commands.
Appendix C: Third-Party Virtualization Tools.
Appendix D: VMware Infrastructure 3 Best Practices.
Index