Mastering Visual Basic .NET Database Programming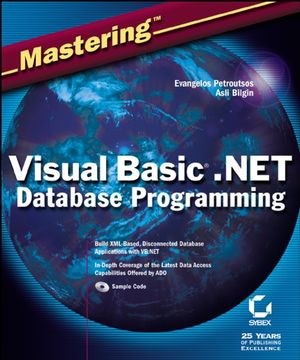 Mastering Visual Basic .NET Database Programming
ISBN: 978-0-782-12878-9
Mar 2002
704 pages
Product not available for purchase
Description
Enter a New World of Database Programming
Visual Basic .NET and ADO.NET facilitate the development of a new generation of database applications, including disconnected applications that run on the Web. Mastering Visual Basic .NET Database Programming is the resource you need to thrive in this new world. Assuming no prior experience with database programming, this book teaches you every aspect of the craft, from GUI design to server development to middle-tier implementation. If you're familiar with earlier versions of ADO, you'll master the many new features of ADO.NET all the more quickly. You'll also learn the importance of XML within the new .NET paradigm.
Coverage includes:
Getting familiar with the ADO.NET object model
Using the data access wizards
Taking advantage of new SQL Server 2000 features
Carrying out XSL Transformations and XPath queries
Generating XML using the T-SQL FOR XML statement
Binding controls to ADO.NET result sets
Arriving at a sound database design
Tuning your SQL Server 2000 database
Using the XML Designer in Visual Studio .NET
Leveraging the data access tools available in the Visual Studio .NET IDE
Working with .NET data providers
Choosing between streaming data and caching data
Working with the Data Form Wizard in Visual Studio .NET
Using advanced ADO.NET techniques
Building a threaded application
Using .NET's advanced exception handling capabilities
Using the .NET Deployment Project Template
Note: CD-ROM/DVD and other supplementary materials are not included as part of eBook file.
Introduction.
Part 1: Database Concepts.
Chapter 1: Database Access: Architectures and Technologies.
Chapter 2: Basic Concepts of Relational Databases.
Chapter 3: The Visual Database Tools.
Chapter 4: Structured Query Language.
Part 2: Database Programming.
Chapter 5: Transact-SQL.
Chapter 6: A First Look at ADO.NET.
Chapter 7: ADO.NET Programming.
Chapter 8: Data-Aware Controls.
Chapter 9: Working with DataSets.
Chapter 10: The Role of XML.
Part 3: Advanced Data Services.
Chapter 11: More ADO.NET Programming.
Chapter 12: Integration with XML.
Chapter 13: The Middle Tier.
Chapter 14: Advanced SQL Server 2000 Features.
Part 4: Data Access From the Web.
Chapter 15: Introducing ASP.NET.
Chapter 16: The Web Data Controls.
Chapter 17: Working with WebServices.
Chapter 18: VS .NET Deployment Considerations.
Appendix A: Sample Projects.
Index.
Download All Code Used in the Book
Download a .zip file with the code and examples used in the book.
To uncompress the file, Windows users can use Windows built-in ZIP utilities or a 3rd party utility like WinZip or WinRAR. Macintosh users can simply double-click the downloaded file to extract using the built-in archive utility.
Download
Download Northwind Application

Download
Download Corrected Listing 9 from Chapter 7
This correction is a zipped MSWord file.
To uncompress the file, Windows users can use Windows built-in ZIP utilities or a 3rd party utility like WinZip or WinRAR. Macintosh users can simply double-click the downloaded file to extract using the built-in archive utility.
Download
Chapter
Page
Details
Date
Print Run
Combined Errata


Page 0CD

Some filenames are truncated.


All Source Code


2878Src.zip
2.72MB



---

7
278-281
Code for chapter 7: Northwind System


Code for chapter 7: Northwind System

Method SeekUsingCountry has been updated. The old code can be found in the method LegacySeekUsingCountry.

Errata Title: Invalid Cast Error using Select method of DataTable with typed DataRow array

Problem
The release version of VS .NET introduced a new bug that gives you an invalid cast exception when you try to set the Select method to a typed DataRow array. The Select() method generates an Invalid Cast error when used with an array of typed DataRows.

Resolution
Microsoft confirmed that this is a bug. They said this will be fixed in the service pack 1 for Visual Studio .NET. There was no hot fix available at the time of this publication.

Reason for problem
The Select method of the DataTable was updated to leverage any existing indexes. This new feature can improve performance thirty-fold. This new feature was introduced shortly prior to ship data, causing support for the typed DataRow in the Select() method to fail.

Workaround
Use generic DataRow array. You can filter using the Select() statement, and still take advantage of strong typing. To do this, I am forcing a cast on the DataRow in the generic DataRow array to the typed DataRow, as I loop through it – that way I can use strong typing.

Text Updates
The text discusses how you can take advantage of typed DataTables using the Select() statement. Now that this is no longer supported, the code is updated to reflect the workaround.

Jan. 24th, 2006

---