Mastering Visual C# .NET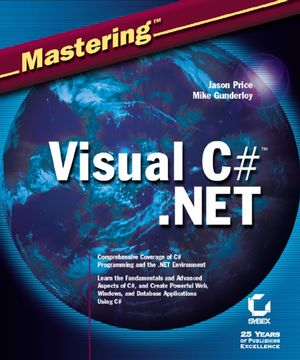 Mastering Visual C# .NET
ISBN: 978-0-782-12911-3
Sep 2002
1008 pages
Product not available for purchase
Description
Get Everything You Can Out of Visual C# and the .NET Framework
Mastering Visual C# .NET is the best resource for getting everything you can out of the new C# language and the .NET Framework. You'll master C# language essentials, quickly taking advantage of the many improvements it offers over C++ and see tons of examples that show you all the ways that .NET can make your programming more efficient and your applications more powerful. You'll learn how to create stand-alone applications, as well as build Windows, web, and database applications. You'll even see how to develop web services—a technology that holds great promise for the future of distributed application.
Coverage includes:
Mastering the fundamentals and advanced aspects of the C# language
Using Visual Studio .NET for increased coding productivity and debugging
Creating distributed applications with remoting and web services
Understanding object-oriented concepts
Delivering data across the Internet with web services
Using XML to communicate with other applications
Accessing databases with ADO.NET
Building Windows applications
Creating web applications using ASP.NET
Reading and writing data from/to files or the Internet
Using advanced data structures to store and manipulate information
Using multi-threading for greater application efficiency
Using reflection to manipulate running code
Building distributed applications with remoting and web services
Securing code and authenticating users
Using built-in encryption facilities
Making your applications world-ready
Parsing strings with regular expressions
Using delegates to handle runtime events
Programming defensively with exception handling
Introduction.
Part 1: Fundamental C# Programming.
Chapter 1: Introduction to C#.
Chapter 2: Basic C# Programming.
Chapter 3: Expressions and Operators.
Chapter 4: Decisions, Loops, and Preprocessor Directives.
Chapter 5: Object-Oriented Programming.
Chapter 6: More about Classes and Objects.
Chapter 7: Derived Classes.
Chapter 8: Interfaces.
Chapter 9: Strings, Dates, Times, and Time Spans.
Chapter 10: Arrays and Indexers.
Chapter 11: Collections.
Chapter 12: Delegates and Events.
Chapter 13: Exceptions and Debugging.
Part 2: Advanced C# Programming.
Chapter 14: Threads.
Chapter 15: Streams and Input/Output.
Chapter 16: Assemblies.
Chapter 17: Attributes and Reflection.
Chapter 18: Remoting.
Chapter 19: Security.
Chapter 20: XML.
Chapter 21: Other Classes in the Base Class Library.
Part 3: .NET Programming with C#.
Chapter 22: Introduction to Databases.
Chapter 23: Active Data Objects: ADO.NET.
Chapter 24: Introduction to Windows Applications.
Chapter 25: Active Server Pages: ASP.NET.
Chapter 26: Web Services.
Appendices.
Appendix A: C# Keywords.
Appendix B: C# Compiler Options.
Appendix C: Regular Expressions.
Index.
Coverage Includes:
Mastering the fundamentals and advanced aspects of the C# language

Using Visual Studio .NET for increased coding productivity and debugging
Creating distributed applications with remoting and web services
Understanding object-oriented concepts
Delivering data across the Internet with web services
Using XML to communicate with other applications
Accessing databases with ADO.NET
Building Windows applications
Creating web applications using ASP.NET
Reading and writing data from/to files or the Internet
Using advanced data structures to store and manipulate information
Using multi-threading for greater application efficiency
Using reflection to manipulate running code
Building distributed applications with remoting and web services
Securing code and authenticating users
Using built-in encryption facilities
Making your applications world-ready
Parsing strings with regular expressions
Using delegates to handle runtime events
Programming defensively with exception handling
Download Code
Download a .zip file with all the source code and examples used in the book.
To uncompress the file, Windows users can use Windows built-in ZIP utilities or a 3rd party utility like WinZip or WinRAR. Macintosh users can simply double-click the downloaded file to extract using the built-in archive utility.
Download
Chapter
Page
Details
Date
Print Run
Combined Errata


Page 9

Line 15 should read "the JIT will need to recompile your program into CPU instructions when it is run again."

Page 13

The sentence immediately above "MODIFYING THE VS .NET - GENERATED CODE" references Class.1.cs., it should read read "Class1.cs"

Line 22 Window listing should read "you can switch" not "you can like switch" - delete the word "like".

Page 23

Table 2.1
in the 5th row there is desc. about integer
int Int32 4 -2,147,483,647 to 2,147,483,647

and that is not true it should start from
-2,147,483,648 so the folowing line should be

int Int32 4 -2,147,483,648 to 2,147,483,647

Page 55

The Note on 55 should be rewritten,
The Note should read:

Note: The And and Or operators in C# perform short-circuit evaluation. If the first expression in an And is false, then the whole will be
false. The value of the second expression is thus irrelevant, and C# will not even evaluate it. Similarly, if the first expression in an Or
is true, then the whole will be true, and the second expression will not be evaluated.

Page 127

4th paragraph,
'popped of the stack' should be
'popped off the stack'

Page 275

2nd to last line under DAYOFYEAR PROPERTY, the date referenced should be 3/24/2002, not 3/34/2002.

Page 346

9 lines from bottom of page.
... where value is the value to find in arrayList. If value is found, the methods return true; otherwise they return false." There is a mistake in saying "the methods return
true;...".

Should read:
"the first method returns true, and the 2nd and 3rd methods return the index of an occurance."

Page 604

NOTE at top of page,
Here is the clarification:

NOTE: Threads can cross application domain boundaries, but at any given
time each thread will be executing in only a single application domain.
The GetDomain method of the Thread object returns a reference to the
application domain in which the thread is executing.

Page 812

Remove Lines 41 & 42
Delete these lines at the bottom of the page..

//run the stored procedure
MySqlCommand.ExecuteNonQuery();


---