Mastering Windows XP Home Edition, 3rd Edition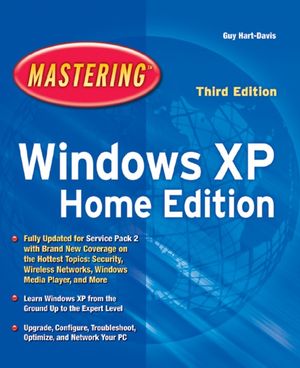 Mastering Windows XP Home Edition, 3rd Edition
ISBN: 978-0-782-15059-9
Feb 2006
1009 pages
Product not available for purchase
Description
The Only Windows XP Home Edition Resource You Need—Now Completely Updated
Here's the insider knowledge you need to maximize Microsoft's powerful home operating system, whether you're moving straight to XP or upgrading from Windows 98 or Me. This encyclopedic guide delivers full coverage of every topic from installation and multimedia, to security and networking. Beginners can start off by using Windows XP on a stand-alone computer and connecting to the Internet, while experienced users can quickly build and secure a home network, work with the Registry to change XP's behavior, and optimize and troubleshoot Windows XP.
Coverage includes:
Upgrading from Windows 98 or Me
Taking full advantage of XP multi-user support
Customizing Windows XP
Installing, removing, and running programs
Sharing files securely--or keeping them private
Adding hardware and installing drivers
Connecting your computer or network to the Internet
Sending secure e-mail and minimizing spam
Communicating via the latest versions of Windows Messenger
Using Windows Firewall
Getting and giving help via the Internet
Enjoying audio, video, and DVDs with Windows Media Player 10
Burning audio and data CDs
Building a secure home network
Using Microsoft PowerToys
Using VPNs and connecting to a company network
Setting up wireless networks with Wi-Fi Protected Access (WPA)
Introduction.
Part 1: Up and Running with Windows XP Home Edition.
Chapter 1: Introducing Windows XP Home Edition.
Chapter 2: Installing Windows XP Home Edition.
Chapter 3: Getting Started with Windows XP Home Edition.
Chapter 4: Customizing Your Desktop.
Chapter 5: Installing, Removing, and Running Programs.
Chapter 6: Managing Your Files and Folders.
Chapter 7: Making the Most of the Bundled Programs.
Chapter 8: Finding Help to Solve Your XP Problems.
Part 2: Administering and Troubleshooting Windows XP Home.
Chapter 9: Managing Users and Accounts.
Chapter 10: Sharing and File Types.
Chapter 11: Managing Your Disks and Drives.
Chapter 12: Working with the Registry.
Chapter 13: Installing, Configuring, and Managing Printers and Fonts.
Chapter 14: Managing Hardware, Drivers, and Power.
Chapter 15: Using XP Home Edition on a Portable Computer.
Chapter 16: Optimizing Windows XP Home Edition.
Chapter 17: Backup and Disaster Recovery.
Part 3: Communications, the Internet, and the Web.
Chapter 18: Connecting to the Internet.
Chapter 19: Surfing the Web with Internet Explorer.
Chapter 20: Using Address Book.
Chapter 21: E-mail with Outlook Express.
Chapter 22: Reading News with Outlook Express.
Chapter 23: Instant Messaging with Windows Messenger.
Chapter 24: Giving and Getting Remote Assistance.
Chapter 25: Sending and Receiving Faxes.
Chapter 26: Publishing Information to the Web.
Part 4: Audio, Video, and Games.
Chapter 27: Windows Media Player.
Chapter 28: Working with Pictures and Videos.
Chapter 29: Burning CDs on XP.
Chapter 30: Playing Games on XP Home Edition.
Part 5: Networking Windows XP Home Edition.
Chapter 31: Understanding Windows Networking.
Chapter 32: Building a Home or Home-Office Network.
Chapter 33: Sharing Resources on Your Network.
Chapter 34: Securing Your Network.
Chapter 35: Connecting to a Remote Computer or Network.
Appendix A Windows Basics.
Appendix B Sharing and Conferencing with NetMeeting.
Index.