Mastering Windows XP Professional, 2nd Edition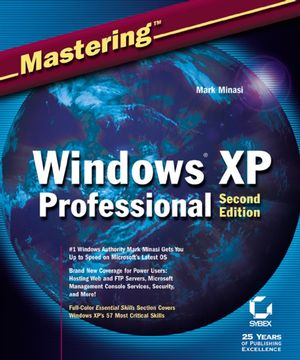 Mastering Windows XP Professional, 2nd Edition
ISBN: 978-0-782-14114-6
May 2002
971 pages
Product not available for purchase
Description
Complete Coverage of Windows XP Professional

The latest from the world's leading Windows authority Mark Minasi, Mastering Windows XP Professional is the premier resource for anyone installing, configuring, and administering Windows XP, whether as part of a corporate network or for home or small business use. Depend on it for step-by-step instruction in hundreds of key techniques--not to mention a thorough look at all of XP's new features and troubleshooting advice that will save you time, money, and countless headaches. Updates to this edition include new coverage for administrators on topics including Web and FTP servers, scripting, the Microsoft Mangement Console and Services, and security.

Coverage Includes
* Using the new Start menu and Control Panel
* Setting up broadband Internet connections
* Setting up and configuring a peer-to-peer network
* Securing your PC and network from intruders
* Encrypting vital data
* Running programs designed for previous versions of Windows
* Transferring files and settings from one computer to another
* Sharing your desktop with remote users
* Connecting to remote computers using Remote Desktop Connection
* Using Windows Media Player 8
* Communicating in real time using Windows Messenger
* Using Windows XP on Portable Computers
* Restoring your system to a previous configuration
* Preventing disaster; backing up and recovering data
* Using the Services and MMC administration tools
Bonus Coverage: Windows XP Essential Skills
Includes 96 pages of full-color visual, step-by-step instruction on the 57 most important Windows XP skills. In minutes, you'll learn how to burn a CD, set up an Internet connection, use XP's powerful System Restore feature, and much more.
Introduction.
Essential Skills for Windows XP Professional.
Part 1: Windows XP Professional Basics.
Chapter 1: Introducing Windows XP Professional.
Chapter 2: Installing Windows XP Professional (and Automating Installation).
Chapter 3: Using the Desktop and Getting Help.
Chapter 4: Customizing the Interface.
Chapter 5: Installing, Running, and Managing Applications.
Chapter 6: Managing Files and Folders.
Chapter 7: Installing and Working with Printers and Fonts.
Chapter 8: Installing and Configuring Hardware.
Chapter 9: Media Player and Movie Maker.
Chapter 10: Using Windows XP Professional on Notebook PCs.
Part 2: Communications and the Internet.
Chapter 11: Connecting to the Internet.
Chapter 12: Web Browsing with Internet Explorer.
Chapter 13: Using the Communications Programs.
Chapter 14: Using Outlook Express for E-mail and News.
Part 3: Networking Windows XP Professional.
Chapter 15: Windows XP Professional Networking and Network Design Primer.
Chapter 16: Setting Up and Configuring a Peer-to-Peer Network.
Chapter 17: Connecting to Domains.
Chapter 18: Living with Windows XP Professional Strict Security.
Chapter 19: Auditing Security.
Chapter 20: Secure Telecommuting.
Part 4: Diagnosing, Administering, Automating and Troubleshooting Windows XP.
Chapter 21: Administrative and Diagnostic Tools.
Chapter 22: Understanding and Using the Registry.
Chapter 23: Using Scripts to Automate Windows XP.
Chapter 24: Disaster Prevention And Recovery.
Chapter 25: Advanced Troubleshooting Methodology.
Part 5: Advanced Topics.
Chapter 26: The Microsoft Management Console.
Chapter 27: Manage Windows XP Professional Services.
Chapter 28: Hosting Web/FTP Servers.
Appendix A: Web Publishing with Windows XP Professional.
Appendix B: Connecting to Novell NetWare Networks.
Appendix C: Active Directory Essentials.
Index.
Chapter
Page
Details
Date
Print Run
Combined Errata


Page 121

TABLE 1.1, There is no OS/2 or POSIX subsystem in XP. Delete these references.




---