Mastering Windows XP Registry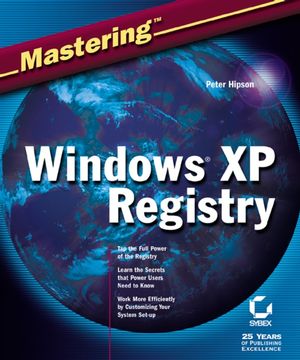 Mastering Windows XP Registry
ISBN: 978-0-782-12987-8
May 2002
662 pages
Product not available for purchase
Description
Expert Advice for Windows XP Power Users

Created for Windows power users and anyone who aspires to be one, Mastering Windows XP Registry provides focused, practical coverage of Windows' most important--and most challenging--element: the registry. Inside, you'll learn to customize Windows XP, optimize the network, and avoid scores of potential disasters, all by working with registry settings. If you're a power user, a system administrator, programmer, or consultant, this guide is absolutely essential.

Coverage includes:
* Understanding registry keys and data types
* Applying the secrets of the most important registry keys
* Adjusting the Windows GUI through registry settings
* Using the registry in networking
* Optimizing performance by editing registry settings
* Working with registry tools
* Recovering from disasters
* Eliminating unwanted keys, entries, applications, and files
* Taking advantage of the registry in your own programs
* Tracking registry changes made by applications
* Navigating registry entries
Introduction.
Part I: Registry Basics.
Chapter 1: What Is a Registry and Why?
Chapter 2: Readme.1st: Preventing Disaster!
Chapter 3: Anatomy of the Registry: The Blood, Gore, and Guts.
Chapter 4: Registry Tools and Tips: Getting the Work Done.
Chapter 5: Policies: Good for One, Good for All.
Part II: Advanced Registry Stuff.
Chapter 6: Associations, Linkages, and OLE: How Confusing Can This Get?
Chapter 7: Why, Oh Why, Are There system.ini and win.ini Files?
Chapter 8: Getting Rid of the Unwanted.
Chapter 9: Recovering from Disaster, or Making the Best of a Bad Situation.
Chapter 10: Programming and the Registry: A Developer's Paradise?
Chapter 11: The Performance Monitor Meets the Registry.
Part III: Windows and Office Registry Entries.
Chapter 12: The Windows XP User Interface: Changing How It Looks.
Chapter 13: Networking and Registry System Entries.
Chapter 14: Microsoft Office Entries.
Part IV: The Registry Reference.
Chapter 15: Introduction to HKEY_CLASSES_ROOT.
Chapter 16: Introduction to HKEY_CURRENT_USER and HKEY_USERS.
Chapter 17: Introduction to HKEY_LOCAL_MACHINE.
Chapter 18: Introduction to HKEY_LOCAL_MACHINE\Software.
Chapter 19: Introduction to HKEY_LOCAL_MACHINE\System and HKEY_CURRENT_CONFIG.
Part V: Appendices.
Appendix A: Common Hives and Keys.
Appendix B: Registry Data Types.
Appendix C: Where Can I Get More Help?
Appendix D: Performance Counters.
Appendix E: Plug and Play Identifiers.
Appendix F: Microsoft Office CLSIDs.
Index.