Mastering the Complex Sale: How to Compete and Win When the Stakes are High!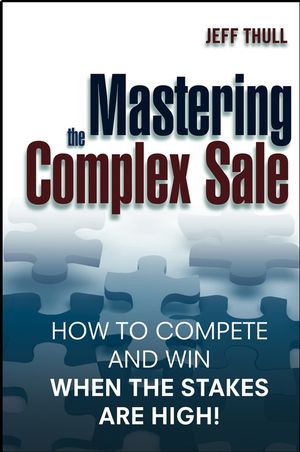 Mastering the Complex Sale: How to Compete and Win When the Stakes are High!
ISBN: 978-0-471-44859-4 August 2003 240 Pages
Description
If you specialize in complex sales, the business-to-business transactions that involve multiple decisions made by multiple people from multiple perspectives, this is the book for you! It presents The Prime Process—a diagnostic, customer-centered approach that clearly sets you apart from your competition and positions you with respect and credibility as a valued and trusted advisor. If the stakes are high and you're expected to win, this book will give you the edge you've been looking for.

Buy your copy today!
Introduction.
1. The World in Which We Sell.
Converging Forces of Rapid Commoditization and Increasing Complexity.
2. Trapped in the Conventional Sales Paradigm.
It's Not about Selling—It's about Managing Quality Decisions.
3. A Proven Approach to Complex Sales.
You're Either Part of Your System or Somebody Else's.
4. Discover the Prime Customer.
Optimum Engagement Strategies.
5. Diagnose the Complex Problem.
The Optimal Source of Differentiation.
6. Designing the Complex Solution.
Prevent Unpaid Consulting.
7. Delivering on the Prime Promise.
Keeping Close to the Customer and Ahead of the Competition.
8. Prime Performance Leadership.
Leading Professionals in the Complex Sale.
9. Prime Corporate Strategies.
Translating Market Strategy into Sales Results.
10. A Complex Sales Future.
You Can Watch It Happen to You or You Can Make It Happen for You
Notes.
Index.