Materialist Feminisms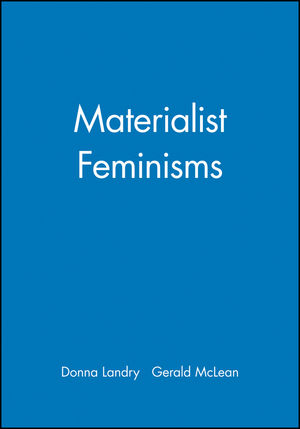 Materialist Feminisms
ISBN: 978-1-557-86185-6
Oct 1993, Wiley-Blackwell
288 pages
Description
Materialist Feminisms investigates the crucial theoretical and political debates that have determined the course of British and American feminism over the last thirty years. As intellectual terrain has shifted during these decades from Marxism to cultural materialism and poststructuralist literary theory, questions of race and ethnicity, sexuality, postcoloniality, and green politics have converged and sometimes collided with the categories within feminism, but analyze many of the most important texts and movements of contemporary cultural theory.

Offering not so much a unified history as an analysis of important moments within these debates, this book examines the work of such feminist theorists as MichUle Barrett, Judith Butler, Rosalind Coward, Donna Haraway, bell hooks, the m/f collective, Tania Modleski, Jacqueline Rose, Gayle Rubin, Hortense Spillers, and Gayatri Spivak. Materialist Feminisms includes new, exemplary readings of feminist detective, African-American, and postcolonial fiction, three kinds of textures commodity currently fetishized in the literary marketplace. What might the success of these kinds of writing signify about politics and desire in contemporary Anglo-American culture?

Demonstrating how the poststructuralis critique of essences and identities need not end in a complete paralysis of political action, as has sometimes been claimed, Materialist Feminisms argues that feminism, soicalism, and deconstruction are not theoretical dead ends, but names for unfinished business.