Materials-Chirality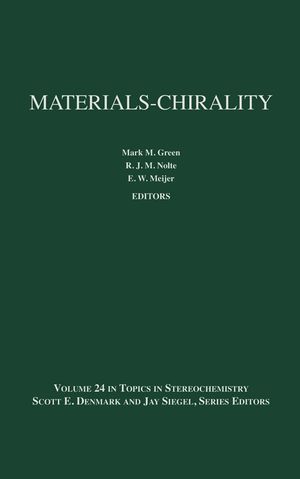 Materials-Chirality
ISBN: 978-0-471-47190-5 May 2004 624 Pages
Description
Topics in Stereochemistry, Materials-Chirality provides comprehensive information on the stereochemistry of materials. Coverage includes the chirality of materials and the important role stereochemistry plays in the physical properties of polymers, liquid crystals, and other materials.
Table of contents
Chirality of Catalysts for Stereospecific Polymerizations (Gaetano Guerra,
et al.).
Chain Conformation, Crystal Structures, and Structural Disorder in Stereoregular Polymers (Claudio De Rosa).
Optically Active Polymers with Chiral Recognition Ability (Yoshio Okamoto, et al.).
Chirality in the Polysilanes (Michiya Fujiki, et al.).
Chiral Molecular Self-Assembly (Mark S. Spector, et al.).
Chiral Discotic Molecules: Expression and Amplification of Chirality (L. Brunsveld, et al.).
Some Correlations Between Molecular and Cholesteric Handedness (Giovanni Gottarelli and Gian Piero Spada).
Ferroelectric Liquid Crystal Conglomerates (David M. Walba).
Nonlinear Optics and Chirality (Thierry Verbiest and André Persoons).
Subject Index.
Cumulative Author Index, Volumes 1-24.
Cumulative Title Index, Volumes 1-24.
Reviews
"…this volume represents a well-balanced assembly of research topics from which readers can gain valuable information…can be recommended to anyone wishing to explore an area of sterochemistry in any subject." (
Journal of Metals Online
, September 1, 2004)
"All chapters are very well written and review the corresponding sub-fields of chiral materials science. The book is highly recommended..." (Polymer News)