Materials Management: An Executive's Supply Chain Guide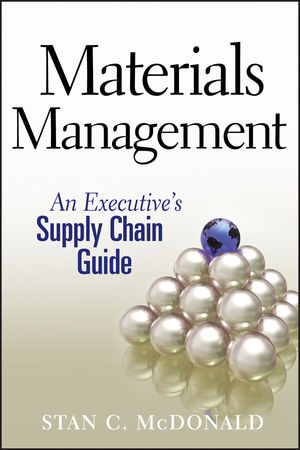 Materials Management: An Executive's Supply Chain Guide
ISBN: 978-0-470-43757-5 March 2009 208 Pages
Description
A solid introduction to materials management and the tools needed to create a world-class materials management program
This nuts-and-bolts guide presents an overview of the inner workings of the materials process, as well as the best practices to achieve a world-class operating system that will help to eliminate ineffective materials management. Coverage includes discussion of material requirements planning, planning parameters, electronic data interchange, and material control graphs and reports, among many other topics. Thorough and practical, Materials Management explains the impact that inadequate inventory control has on a company and how these poor controls can reduce production, cause inefficiencies in labor, create excessive inventory, and increase freight expenses.
Stan McDonald (Northville, MI) is an independent consultant on materials management. Throughout his 30-year career, he has held various positions in the supply chain/materials management arena.
Table of contents
Preface.
Acknowledgments.
Chapter 1. Before Computer Systems.
Inventory Card Control System.
Advantages of the Manual Card System of Inventory Control.
Bill of Materials Accuracy.
Pick Ticket System.
Advantage of Computer-Generated Inventory Control Systems.
Chapter 2. Material Requirements Planning.
Foundation for Material Requirements Planning.
Importance of Planning Parameters.
Understanding the Impact of MRP.
Chapter 3. The Raging Fire and Firefighting.
Burning Up Company Profits.
Get It Correct at the Beginning.
Develop Good Scrap Reporting Methods.
Ownership of Inventory.
Vanishing Inventory Issue.
Responsibility for Inventory: The Few or the Many?
Chapter 4. A Strong, Well-Balanced Materials Organization.
Materials Management Status in Organizations.
Obstacles Preventing Materials Management Success.
Measuring Materials Management Success.
Chapter 5. General Review of Materials Practices.
Calculating Inventory Turns.
Obsolete Dollars Calculated in Inventory Turns.
Customer-Generated Obsolescence.
Obsolescence Controls.
What Are the Customer Ratings?
How Does the Shipping Department Function?
How Does the Receiving Department Function?
Chapter 6. Lead Time.
Long Lead-Time Items.
Managing Customer Changes.
International Releases.
Supplier Lead Time.
International Lead Times.
Transit Time versus Freight Costs.
Lower Lead-Time Inhibiters.
Chapter 7. Inventory Accuracy.
Managing the Computer-Controlled Inventory System.
Limiting Access to Make Changes.
Inventory Accuracy Influencers.
Chapter 8. Cycle Counting.
Convincing Argument for Cycle Counting.
Computer-Generated Cycle Counts.
Cycle-Counting Proficiency.
Cycle-Counting Criteria.
Chapter 9. Releases to Suppliers.
Managing Demand in the Plant.
Supplier Release Generation.
Shortage Control.
Supplier Charge-Back System.
Customer-Mandated Suppliers.
Chapter 10. Planning Parameters.
Make-to-Order Plants.
Controlling Planning Parameters.
Chapter 11. Electronic Data Interchange.
Chapter 12. Materials Control Graphs and Reports.
On-Time Delivery.
Premium Freight.
Inventory Accuracy.
Cycle Counting.
Presentations.
Interplant Grading Systems.
Chapter 13. Obsolescence.
Balance-Out of Product or Components.
Preventing Obsolescence.
Avoiding Supplier and Customer Obsolescence.
Chapter 14. Physical Inventories.
Inventory Reconciliation.
Chapter 15. Receiving.
Review of Receiving Practices.
Verification Process.
Best Practice.
Damaged Materials.
Label Deficiencies.
Count Discrepancies.
An Alternative System.
Chapter 16. Shipping.
Cumulative Balances.
Electronic Releases.
Annual Customer Volumes.
Ownership of Shipments to the Customers.
Short Shipments.
Shipping Errors.
Chapter 17. Carrier Selection.
Analyzing Freight Expenses.
Freight Management.
Chapter 18. Supplier Selection and Ratings.
Supplier Selection.
Supplier Delivery Rating Systems.
Chapter 19. Production.
Production Scheduling.
Alternative Approaches for Production Scheduling.
Chapter 20. Best Materials Control Effort.
Bill of Materials: A Goal of 100 Percent Accuracy.
Planning Parameters: 100 Percent Accurate.
Bar Code Scanning.
Calculating the Minimum for Component Inventory.
Developing Transportation Routings.
Calculating the Maximum Inventory Levels.
Daily Raw Materials Scanning in a Closed-Loop Process.
Shipping and Receiving Raw Materials.
Skip-Lot Inspection.
Movement of Raw Materials to Line-Side Areas.
Chapter 21. Advanced Logistics Planning.
Appendix A. Mexican Plants.
Appendix B. Management Philosophies.
Appendix C. Color Code Management Styles.
Index.