Mathematical Programming for Agricultural, Environmental, and Resource Economics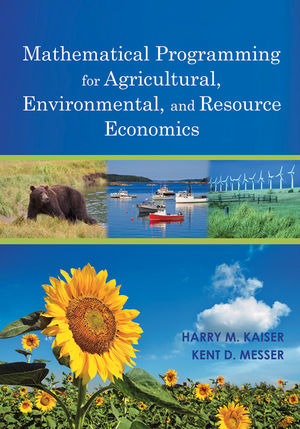 Mathematical Programming for Agricultural, Environmental, and Resource Economics
ISBN: 978-0-470-59936-5
Jan 2012
512 pages
Description
Mathematical Programming for Agricultural, Environmental, and Resource Economics educates students on the techniques of mathematical programming and their application to agricultural, resource, and environmental economics problems.  This text artfully combines an introductory text in math programming, algebraic and geometric concepts while also presenting differential calculus designed for upper-level undergraduates and graduate students. This text is designed specifically to help students develop the quantitative skills necessary for cutting edge research and techniques.
Part 1 LINEAR PROGRAMMING.
Chapter 1 INTRODUCTORY CONCEPTS AND THE GRAPHICAL APPROACH TO LINEAR PROGRAMMING.
Chapter 2 THE SIMPLEX METHOD TO SOLVING LINEAR PROGRAMMING PROBLEMS.
Chapter 3 SENSITIVITY ANALYSIS USING THE SIMPLEX METHOD AND DUALITY.
Chapter 4 FARM-LEVEL LINEAR PROGRAMMING MODELS.
Chapter 5 TRANSPORTATION AND ASSIGNMENT MODELS FOR FOOD AND AGRICULTURAL MARKETS.
Chapter 6 NATURAL RESOURCE AND ENVIRONMENTAL ECONOMICS APPLICATIONS OF LINEAR PROGRAMMING.
Part 2 RELAXING THE ASSUMPTIONS OF LINEAR PROGRAMMING.
Chapter 7 INTEGER AND BINARY PROGRAMMING.
Chapter 8 OPTIMIZATION OF NONLINEAR FUNCTIONS.
Chapter 9 GLOBAL APPROACHES TO NONLINEAR OPTIMIZATION.
Chapter 10 RISK PROGRAMMING MODELS.
Chapter 11 PRICE ENDOGENOUS MATHEMATICAL PROGRAMMING MODELS.
Chapter 12 GOAL PROGRAMMING.
Chapter 13 DYNAMIC PROGRAMMING.
Index.
FREE Risk Solver for Education software accompanies the text!
Combination of an introductory text in applied mathematical programming with a principle focus on relevant natural resource and environmental issues.
Designed for upper-level undergraduates and Masters-level graduate students majoring in economics, agricultural economics, environmental and resource economics, applied economics, and applied operations research.
Applies math programming models to real-world problems confronting agriculture, the environment, and natural resources.
Includes numerous exercises of varying level of difficulty:  20+ exercises with answers to odd-numbered questions for each chapter.