Maths Quest: Preliminary Mathematics General & eBookPLUS, 4th Edition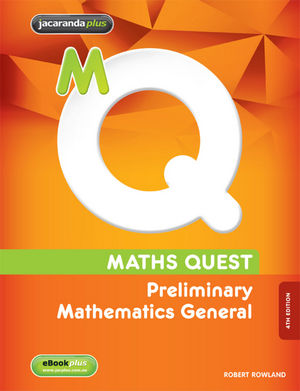 Maths Quest: Preliminary Mathematics General & eBookPLUS, 4th Edition
ISBN: 978-1-118-51176-3
Feb 2013, Jacaranda
504 pages
Product not available for purchase
Description
Maths Quest Preliminary Mathematics General Fourth Edition is written for the NEW Mathematics General Stage 6 Syllabus.
This text provides comprehensive coverage of the five strands: Financial Mathematics, Data and Statistics, Measurement, Probability, and Algebra and Modelling. It also covers the two Focus Studies: Mathematics and Communication, and Mathematics and Driving.
The Preliminary Mathematics General course is structured to prepare students for pathways to both the HSC Mathematics General 1 course and the HSC Mathematics General 2 course.
In this text, students are encouraged to understand and experience the application of mathematics in the world, to appreciate the beauty and wonder of mathematics, and to realise the possibilities for their own lives and careers that the study of mathematics can give them.
This text strives to ignite the potential in each student.
This resource contains the following award-winning features:
• Two major collaborative, online projects with an emphasis on the themes of the Focus Studies, delivered through ProjectsPLUS.
• Interactivities that bring concepts to life.
• Easy-to-follow worked examples in the Think–Write format.
• Carefully graded exercises that conclude with further development questions designed to extend and challenge students.
• Investigations to stimulate students' interest and engagement.
• Comprehensive chapter reviews.
• A glossary of mathematical terms that define the terminology introduced in each topic.
• eBookPLUS references throughout to direct students and teachers to relevant online material.


This title features eBookPLUS: an electronic version of the textbook and a complimentary set of targeted digital resources. These flexible and engaging ICT activities are available at the JacarandaPLUS website.

Your eBookPLUS resources include:

• the entire textbook in electronic format
• WorkSHEETS – Word documents to assist with revision and practice
• Spreadsheets
• ProjectsPLUS – two major online, collaborative projects

Click here to view Maths Quest Preliminary Mathematics General Fourth Edition eBookPLUS.
Introduction vi
About eBookPLUS viii
Acknowledgements ix
Chapter 1. Earning money 1
1A Calculating salary payments 1
Exercise 1A 2
1B Calculating wages 3
Exercise 1B 5
1C Commission and royalties 8
Exercise 1C 9
1D Payment by piece 12
Exercise 1D 13
1E Working overtime 14
Exercise 1E 16
1F Government allowances 19
Exercise 1F 20
1G Additions to and deductions from
gross pay 22
Exercise 1G 23
1H Budgeting 27
Exercise 1H 29
Summary 35
Chapter review 36
ICT activities 39
Answers 40
Chapter 2. Investing money 43
2A Calculation of simple interest 43
Exercise 2A 46
2B Graphing simple interest
functions 48
Exercise 2B 50
2C Calculation of compound interest 53
Exercise 2C 55
2D Calculating compound interest from a table
of compounded values 57
Exercise 2D 60
2E Share dividends 62
Exercise 2E 62
2F Graphing share performance 64
Exercise 2F 66
2G Infl ation and appreciation 68
Exercise 2G 69
Summary 72
Chapter review 73
ICT activities 76
Answers 77
Chapter 3. Taxation 81
3A Calculating allowable deductions 81
Exercise 3A 83
3B Taxable income 85
Exercise 3B 87
3C Medicare levy 90
Exercise 3C 90
3D Calculating tax 91
Exercise 3D 94
3E Calculating GST and VAT 97
Exercise 3E 98
3F Graphing tax functions 101
Exercise 3F 101
Summary 103
Chapter review 104
ICT activities 106
Answers 107
Chapter 4. Statistics and society, data collection and sampling 109
4A Statistical processes 109
Exercise 4A 112
4B Target populations and sampling 114
Exercise 4B 116
4C Population characteristics 118
Exercise 4C 120
4D Types of data 122
Exercise 4D 123
4E Bias 125
Exercise 4E 128
Summary 132
Chapter review 133
ICT activities 136
Answers 137
Chapter 5. Displaying single data sets 141
5A Types of graphs and stem-and-leaf
plots 141
Exercise 5A 144
5B Frequency tables and cumulative frequency 146
Exercise 5B 149
5C Range and interquartile range, deciles and
percentiles 154
Exercise 5C 158
5D Five-number summaries 164
Exercise 5D 166
5E Appropriate graphs and misuse of graphs 169
Exercise 5E 173
Summary 177
Chapter review 178
ICT activities 182
Answers 183
Chapter 6. Summary statistics 189
6A Calculating the mean 189
Exercise 6A 193
6B Median and mode 198
Exercise 6B 201
6C Standard deviation 205
Exercise 6C 208
6D Best summary statistics 212
Exercise 6D 214
Summary 220
Chapter review 221
ICT activities 226
Answers 227
Chapter 7. Measurement 231
7A Measurements as approximations 231
Exercise 7A 233
7B Units of measurement and scientific
notation 234
Exercise 7B 237
7C Ratios 239
Exercise 7C 240
7D Rates 242
Exercise 7D 245
7E Percentage change 247
Exercise 7E 248
Summary 250
Chapter review 251
ICT activities 253
Answers 254
Chapter 8. Perimeter, area and volume 257
8A Perimeter of plane shapes 257
Exercise 8A 259
8B Area of plane shapes 262
Exercise 8B 264
8C Field diagrams 268
Exercise 8C 270
8D Applications of area 271
Exercise 8D 271
8E Volume of prisms 273
Exercise 8E 275
Summary 279
Chapter review 280
ICT activities 282
Answers 283
Chapter 9. Similar figures and trigonometry 285
9A Similar f igures and scale factors 285
Exercise 9A 287
9B Solving problems using similar f igures 291
Exercise 9B 293
9C Calculating trigonometric ratios 297
Exercise 9C 301
9D Finding an unknown side 302
Exercise 9D 305
9E Finding angles 308
Exercise 9E 309
9F Applications of right-angled triangles 312
Exercise 9F 315
Proportional diagrams 316
Summary 317
Chapter review 318
ICT activities 321
Answers 322
Chapter 10. Probability 325
10A Multi-stage events 325
Exercise 10A 327
10B The fundamental counting principle 329
Exercise 10B 331
10C Probability statements 333
Exercise 10C 335
10D Relative frequency 336
Exercise 10D 338
10E Equally likely outcomes 341
Exercise 10E 342
10F The probability formula 343
Exercise 10F 345
10G Writing probabilities as decimals and
percentages 348
Exercise 10G 349
10H Range of probabilities 351
Exercise 10H 353
10I Complementary events 356
Exercise 10I 357
Summary 360
Chapter review 361
ICT activities 364
Answers 365
Chapter 11. Algebraic manipulation 369
11A Operations with algebraic expressions 369
Exercise 11A 371
11B Further multiplication and division 372
Exercise 11B 373
11C Expanding and simplifying algebraic expressions 374
Exercise 11C 375
11d Substitution 376
Exercise 11D 377
11E Solving linear equations 379
Exercise 11E 381
Summary 384
Chapter review 385
ICT activities 387
Answers 388
Chapter 12. Modelling linear relationships 391
12A Graphing linear functions 391
Exercise 12A 393
12B Gradient and y-intercept 395
Exercise 12B 398
12C Drawing graphs using gradient and intercept 400
Exercise 12C 403
12D Simultaneous equations 404
Exercise 12D 407
12E Practical applications of linear functions 409
Exercise 12E 411
Summary 414
Chapter review 415
ICT activities 418
Answers 419
Chapter 13. Focus study: Mathematics and communication 425
Section 1 — Mobile phone bills 425
13A Calculating costs 425
Exercise 13A 427
13B Reading a mobile phone bill 430
Exercise 13B 431
13C Phone usage 432
Exercise 13C 433
13D Choosing the best mobile phone plan for your needs 435
Exercise 13D 435
Section 2 — Digital download and file storage 436
13E Units of storage 436
Exercise 13E 438
13F Digital transfer rates 439
Exercise 13F 439
13G Random selection 440
Exercise 13G 441
Summary 442
Chapter review 443
ICT activities 445
Answers 446
ICT activities — Projectsplus
pro-0135 The cost of piracy 448
Chapter 14. Focus study: Mathematics and driving 451
Section 1 — Costs of purchase and insurance 451
14A Depreciation of new cars 452
Exercise 14A 453
14B Insurance and stamp duty 454
Exercise 14B 456
14C Financing your vehicle 457
Exercise 14C 460
Section 2 — Running costs and depreciation 462
14D Fuel costs 462
Exercise 14D 463
14E Straight line depreciation 465
Exercise 14E 466
14F Declining balance method of depreciation 467
Exercise 14F 468
Section 3 — Road safety 470
14G Speed and stopping distances 470
Exercise 14G 473
14H Blood alcohol concentration (BAC) 474
Exercise 14H 476
Summary 478
Chapter review 479
ICT activities 482
Answers 483
ICT activities — Projectsplus
pro-0136 Causes of accidents 486
Glossary 489
Index 492