Maths Quest 8 For New South Wales + Maths Quest 8 For New South Wales Homework Book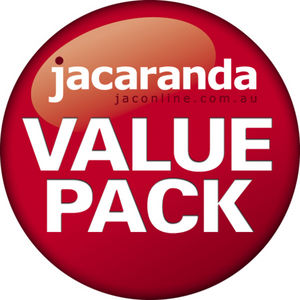 Maths Quest 8 For New South Wales + Maths Quest 8 For New South Wales Homework Book
ISBN: 978-0-731-40368-4
Jacaranda
224 pages
Product not available for purchase
Description
Maths Quest 8 for New South Wales is the second of two texts that meet all the requirements of the Mathematics Stage 4 syllabus, with a fresh, contemporary design and carefully planned content.

This value pack contains the Text and Homework Book.

Text Features

The student textbook, the second in a complete Maths Quest for New South Wales series for Years 7-10, offers:
Full colour with stimulating photographs and graphics to support real-life applications
An introductory set of questions at the start of each chapter that are based on the learning outcomes of previous stages, to help establish the students' current level of understanding
Carefully graded exercises throughout the chapters, with many skill and application problems, multiple-choice questions, chapter summaries and chapter reviews to consolidate learning
Maths Quest challenge questions - more-difficult problems designed to extend students
Cross-references to relevant worked examples matched to questions throughout the exercises
Two sets of 10 Quick Questions in each chapter to provide a cumulative review of concepts covered
Puzzles, investigations, graphics calculation tips, history of mathematics and more . . .
Technology is fully integrated - as well as graphics calculations, Maths Quest features computer algebra systems, spreadsheets, dynamic geometry software and several graphing packages.
Maths Quest 8 for New South Wales is now supported by eBookPLUS!
What is eBookPLUS?
Maths Quest 8 for New South Wales eBookPLUS  is an electronic version of the student textbook and a complementary set of targeted digital resources. These flexible and engaging resources are available online at the jacarandaPLUS website (www.jacplus.com.au).
eBookPLUS Features
the entire student textbook in electronic format
interactive technology files
interactive games
skillsheets and worksheets
Test Yourself multiple-choice questions
Maths Quest 8 for New South Wales Homework Book is the seond in a series of homework books designed for stages 4 and 5 of the New South Wales syllabus. The homework book contains a variety of activities including homework sheets, rich tasks and fun code puzzles, the complement to the student textbook. It provides students, parents and teachers with an opportunity to construct a homework program that will assist students in the development of their mathematical skills.
Each chapter contains five worksheets: two homework sheets, one rich task and two code puzzles. The tear-out sheets are designed for ease of use by both students and teachers, with space provided for student answers and teacher feedback. Each worksheet has page references that link it to the matching content in the student textbook.

 
Text
Introduction
Number skills and the history of number
Percentages
Data representation
Algebra
Pythaogras' theorem
Equations
Geometry
Coordinates and graphs
Area, volume and surface area
Data analysis and evaluation
Circles, cylinders and composite shapes
Ratio and rates
Congruence and similarity
Probability
Homework Book
Introduction
Acknowledgements
Student reflection grid
Number skills
Percentages
Data representation
Algebra
Pythagoras' theorem
Equations
Geometry
Coordinates and graphs
Area, volume and surface area
Data analysis and evaluation
Circles, cylinders and composite shapes
Ratios and rates
Congruence and similarity
Probability
¿¿
¿¿