Maths Quest VCE Foundation Mathematics eBookPLUS (Online Purchase)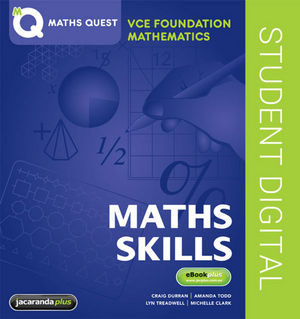 Maths Quest VCE Foundation Mathematics eBookPLUS (Online Purchase)
ISBN: 978-1-742-16385-7
Mar 2010, Jacaranda
Product not available for purchase
Description
Maths Quest VCE Foundation Mathematics eBookPLUS is an electronic version of the eight booklets as well a complementary set of targeted digital resources. These flexible and engaging ICT activities are available to you online at the JacarandaPLUS website (www.jacplus.com.au).


Your eBookPLUS resources include:
easy access to all the worksheets and weblinks
purposeful and integrated eLearning activities that focus on reinforcing the mathematical concepts and common problem areas
Click here to view Maths Quest VCE Foundation Mathematics Textbook & eBookPLUS.
Maths Skills
Finance
Sport
The house and land package
Travelling
Car Safety
Water wise
A musical production