Matter and Interactions, Volume II: Electric and Magnetic Interactions, 4th Edition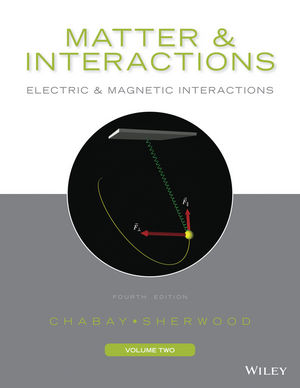 Matter and Interactions, Volume II: Electric and Magnetic Interactions, 4th Edition
ISBN: 978-1-119-11335-5 March 2015 528 Pages
Download Product Flyer
Download Product Flyer
Download Product Flyer is to download PDF in new tab. This is a dummy description. Download Product Flyer is to download PDF in new tab. This is a dummy description. Download Product Flyer is to download PDF in new tab. This is a dummy description. Download Product Flyer is to download PDF in new tab. This is a dummy description.
Description
Matter and Interactions offers a modern curriculum for introductory physics (calculus-based). It presents physics the way practicing physicists view their discipline while integrating 20th Century physics and computational physics. The text emphasizes the small number of fundamental principles that underlie the behavior of matter, and models that can explain and predict a wide variety of physical phenomena. Matter and Interactions will be available as a single volume hardcover text and also two paperback volumes.

Volume Two includes chapters 13-23.
Table of contents
13 Electric Field
14 Electric Fields and Matter
15 Electric Field of Distributed Charges
16 Electric Potential
17 Magnetic Field
18 Electric Field and Circuits
19 Circuit Elements
20 Magnetic Force
21 Patterns of Field in Space
22 Faraday's Law
23 Electromagnetic Radiation
The Supplements can be found at the web site, ww.wiley.com/college/chabay
Supplement S1 Gases and Heat Engines S1-1
Supplement S2 Semiconductor Devices S2-1
Supplement S3 Waves S3-1
New To This Edition
Online Homework – now all of the end-of-chapter problems are available for assignment with the WebAssign online homework system.
Instructor Solutions Manual – The new edition is accompanied by a complete instructor solutions manual.
NEW Student Solutions Manual – contains full solutions to a selection of end-of-chapter problems.
Increased support for computational modeling throughout.
Discussion throughout the text contrasting iterative and analytical problem solutions.
Many new computational modeling problems – large and small.
Improved discussion throughout of the contrast between models of a system as a point particle and as an extended system.
Improved treatment of polarization surface charge in electrostatics (Ch.14) and circuits (Ch.18) based on computational models.
More extensive problem sets at the end of each chapter, with improved indication of difficulty level.
Features
Modeling: The text places a major emphasis on constructing and using physical models. A central aspect of science is the modeling of complex real-world phenomena. A physical model is based on fundamental principles; its intent is to predict or explain the most important aspects of an actual situation.

Computer Modeling: Computer modeling is now as important as theory and experiments in contemporary science and engineering. Computer modeling is introduced early to help build a strong foundation in the use of this important tool.

Experiments Using Simple Equipment: Some end-of-chapter problems involve experiments using simple equipment such as weights, string, coffee filters, scotch tape, etc. By experimenting with very simple equipment, students can gain insight into rather deep scientific issues.

Active Learning: Stop and Think questions are interspersed throughout the reading to encourage students to engage the material more deeply.

Lab Activities: There is a complete set of lab activities that were written specifically for a Matter & Interactions-style course.