Maximum Adverse Excursion: Analyzing Price Fluctuations for Trading Management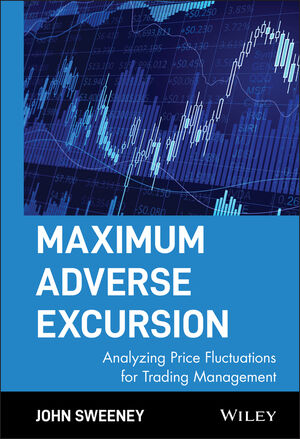 Maximum Adverse Excursion: Analyzing Price Fluctuations for Trading Management
ISBN: 978-0-471-14152-5
Jan 1997
176 pages
Description
The first comprehensive guide on maximum adverse excursion -- a powerful new tool for dramatically lessening trading risks

"Trading successfully, like everything else, is built upon solid preparation. It is the well-prepared individual who will be able to cope in today's competitive market. John Sweeney's Maximum Adverse Excursion will provide you with the steps to perform the analytical review of your trading system that you should undertake before you ever risk your capital." -- Thomas Hartle, Editor Technical Analysis of Stocks & Commodities magazine

"Maximum Adverse Excursion deals with a much overlooked subject: how to minimize losses. If every trader took John Sweeney's advice and learned how to minimize losses before trying to make profits, they would be financially ahead." -- Martin J. Pring, President The International Institute for Economic Research

"John Sweeney has done it again. As with Campaign Trading, he takes a complex set of ideas and explains them in a simple, easy-to-understand manner, in a form that traders can use to help them make informed and profitable buy-sell decisions." -- Clifford Sherry, PhD, author The Mathematics of Technical Analysis

Most successful traders have a "sixth sense" that alerts them to loss points and amounts. But what happens when intuition fails?

When the potential loss incurred on a trade is significant, you need more than guesswork. But is it possible to estimate the loss point accurately--quantitatively? With maximum adverse excursion (MAE), the answer is a resounding "YES". This innovative method of risk management enables traders to steer clear of potentially devastating results by pinpointing loss points before implementing trading decisions. Now, in the first book to provide an in-depth examination of this vital trading tool, John Sweeney, MAE developer and Technical Editor of the highly regarded Technical Analysis of Stocks & Commodities magazine, takes you step by step through its various intricacies.

In this comprehensive and accessible reference, Sweeney shows how the key to successful MAE implementation lies in determining whether there is any consistency in market behavior. By measuring and charting price excursion from a set point of entry, you can establish--quickly and easily--whether prices show consistent behavior over a finite time frame. If, in fact, some regularity, some pattern in price changes is revealed, you can then exploit it while in the trade. The bottom line is a more reliable system for discerning whether your trade is going in your direction or not, and--in either case--what likely events are next. By replacing guesswork with statistical descriptions, you can objectively determine when to cut off a loser, or put in a protective stop . . . or take profits.

Maximum Adverse Excursion can give you "the elusive edge that traders seek . . . a line all your own, from which profits can flow with minimized, quantifiable risk." This comprehensive, accessible reference gives you the tools you need to employ MAE successfully, including detailed information on:
* Defining and calculating adverse, minimum, and maximum favorable excursion (MinFE and MaxFE)
* Displaying MAE--aggregation, frequency diagrams, stop size
* Determining specific capital requirements--capital conservation, defining drawdowns
* Profit definition by stop level--profit tradeoffs, profit curves, interpretation
* Impact of volatility changes--tweaks, changing stops by range or volatility
* Trading management--portfolio impacts, day-to-day management, elaborations


Complete with sample calculations, practical examples, and EXCEL programs for creating your own charts, this is the definitive guide to using MAE effectively--and profitably.
The Idea.

Defining Max Adverse Excursion.

Displaying MAE.

Defining Profit by Bin.

Impact of Volatility Changes.

Runs Effects.

Martingales.

Trading Management.

Appendices.

Index.