Maya®: Secrets of the ProsTM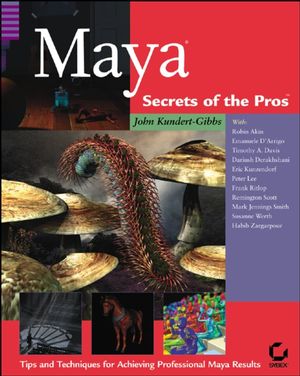 Maya®: Secrets of the ProsTM
ISBN: 978-0-782-14055-2
Aug 2002
366 pages
Product not available for purchase
Description
In this unique full-color book, a cadre of professionals led by Maya expert and best-selling author, John Kundert-Gibbs, team up to share what they've learned using Maya in the CG trenches.

Contributing authors include veterans of such high-profiles projects as The Lord of the Rings trilogy, Final Fantasy: The Spirits Within, Star Wars: Episode I, The Perfect Storm, as well as animations featured at SIGGRAPH.

Whether you're new to the field or already have solid 3D experience, Maya: Secrets of the Pros offers insights and step-by-step instructions designed to help you build and sharpen a range of critical skills, including:
* Preparation techniques for modeling and animation
* Improving motion capture and lip synching
* Creating crowd scenes from a small number of base models
* Controlling dynamics in plot-driven sequences
* Developing massively complex particle systems for film effects, such as those in The Perfect Storm
* Modeling subdivision surfaces
* Creating a GUI animation set-up for animators
* Using effective natural lighting
* Writing software for a multi-platform renderfarm
Part One: Beginnings: Modeling.
One: Accelerating the Preproduction Process.
Two: Modeling a SubDivision Surface Horse.
Three: Organixэodeling by Procedural Means.
Part Two: Putting Things in Motion: Animation.
Four: Animation and Motion Capture-Working Together.
Five: Lip-Synching Real-World Projects.
Part Three: The Numbers Game: Dealing with Complex Systems.
Six: Creating Crowd Scenes from a Small Number of Base Models.
Seven: Taming Chaos: Controlling Dynamics for Use in Plot-Driven Sequences.
Eight: Complex Particle Systems.
Nine: Creating a Graphic User Interface.
Part Four: Endings: Surfacing and Rendering.
Ten: Effective Natural Lighting.
Eleven: Distributed Rendering.
Index.
Chapter
Page
Details
Date
Print Run
Combined Errata,

Page 166

1st para., line 6, .... if you you're.... , should be ....if you're.....

Page 224

End of paragraph 2, under Gathering Reference, see detailed description.
The following sentence should be the last sentence of the paragraph:

An online reference may use up some disk space, but if you select the material carefully, an online reference can be invaluable in providing a direction for the crew.