Maya 8 at a Glance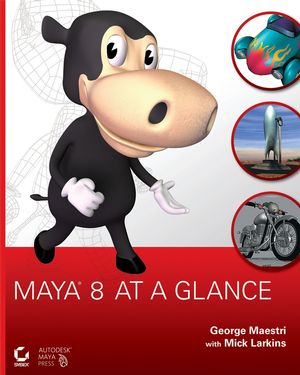 Maya 8 at a Glance
ISBN: 978-0-470-10656-3
Dec 2006
217 pages
Product not available for purchase
Description
The Visual Key to Maya
One look and you'll see that this Maya book is different from all the others. It presents the core Maya features visually, using pages packed with striking graphics and loaded with concise explanations of the Maya interface. This expanded edition includes more tutorials; updated material on modeling, animation, rendering and dynamics; and new coverage of Toon Shaders, along with other exciting Maya tools. Engaging step-by-step lessons provide hands-on reinforcement as you learn. Start your adventures in Maya with this full-colour, visual guide—the perfect introduction to Maya 8.
Use Paint Effects to create images from scratch or add painterly qualities to existing images.
Learn how Maya's MEL scripts can help with tasks, such as connecting a curve's CVs to joints to pre-visualize a skeleton.
The enclosed CD includes the Maya Personal Learning Edition and all the files you need to complete the tutorials.
Introduction.
1 Introduction to Maya.
2 NURBS Modeling.
3 Polygonal Modeling.
4 Creating Textures.
5 Lighting.
6 Rendering.
7 Paint Effects.
8 Deformations and Rigging.
9 Animation.
10 Special Effects.
11 MEL Script.
Index.
VISUAL INTRODUCTION: Employs a real-world, task-based, tutorial approach to teach readers how to use Maya.

UPDATED, MORE PAGES: This edition adds 50 pages with more tutorials and additional material on the Maya interface modeling, animation, rendering and dynamics, including new coverage of Toon Shaders, UVs, and MEL scripting, as well as more coverage on SubDs modeling and character setup.

PREMIUM PACKAGE: Features high quality coated paper for crisp image reproduction, and a stylish interior design that will appeal to visual effects artists and animators.

FULL COLOR This is the only full color book on Maya in the Market.