Maya Studio Projects: Game Environments and Props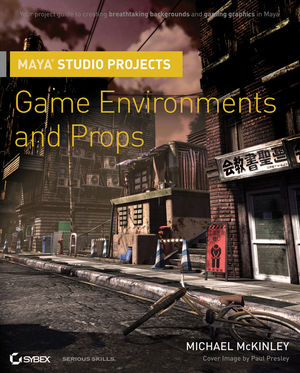 Maya Studio Projects: Game Environments and Props
ISBN: 978-0-470-60931-6 February 2010 288 Pages
Description
Use Maya to create realistic environments and props for digital games
Weapons, vehicles, tools, buildings, trees, plants, walls, ceilings, and floors-these items may seem secondary to the game environment, but they are integral parts of the game and they all need to be created. Maya Studio Projects: Game Environments and Props is a step-by-step project guide to creating some of the most popular game art.
Author Michael McKinley shares techniques for getting the most out of Maya to create realistic, vivid, and compelling worlds and otherworldly props. Along the way, he provides notes and FYIs that give readers depth and breadth for bringing both reality and creativity to their game art. A bonus DVD features step-by-step videos to help drive home concepts.
The Studio Projects series offers projects that start from nothing, just as they do in the studio; these books provide you with a step-by-step guide to software attributes and tools that encompass multiple disciplines so that you can create a finished, renderable object
Many games have only a few characters, and multiple levels and environments, and hundreds of props-this book focuses on projects and techniques for creating everything but the character
Maya is the top 3D app for creating console and computer games such as: Rock Band, Gears of War, James Bond: Quantum of Solace, Fallout 3, and Far Cry 2
Learn effective Maya studio techniques with this handy, step-by-step, full-color book.
Note: CD-ROM/DVD and other supplementary materials are not included as part of eBook file.
Table of contents
Introduction.
Chapter 1: Walls, Ceilings, and Floors.
Understanding Backgrounds.
Project: Creating a Brick Wall.
Information Overload.
Chapter 2: Foliage.
Understanding Foliage.
Project: Creating Ivy.
Project: Creating a Savannah Tree.
The Illusion of Detail.
Chapter 3: Weapons.
Understanding Weapons.
Project: Creating and Animating a Western Revolver.
Moving Right Along.
Chapter 4: Vehicles.
Understanding Vehicles.
Project: Building a Dune Buggy.
Where to Go from Here?
Chapter 5: Buildings.
Understanding Buildings.
Project: Building a Skyscraper.
Let's Light It Up.
Chapter 6: Illuminators.
Understanding Illuminators.
Project: Creating a Wall Sconce.
In the Home Stretch!
Chapter 7: Ambient Movement.
Understanding Movers.
Project: Creating an Industrial Fan.
Not Just a Level.
Chapter 8: Putting It All Together.
Project: Creating a Sci-Fi Prop.
Project Complete!
Chapter 9: Pro Tips.
Using Mudbox or ZBrush.
Creating Level of Detail.
Mipmapping.
Using Multiple UV Channels.
Creating Collision Meshes.
Being Professional.
Have Fun!
Appendix A: Image Gallery.
Appendix B: About the Companion DVD.
What You'll Find on the DVD.
System Requirements.
Using the DVD.
Troubleshooting.
Customer Care.
Index.